Happy Friday, bibliophiles! I'm glad to be out of school for Thanksgiving break…I need some time off.
This book tag has been sitting in my blog sticky note for a while, but I figured it would be the right occasion to do it since I've just finished Aurora's End (🥲). The tag was originally created by Jemma @ Starry Eyed Reader, and I found the tag on her blog as well. The Aurora Cycle is my favorite series, so I just had to do this tag!
Let's begin, shall we?
💫SQUAD 312 BOOK TAG💫
TYLER JONES—THE ALPHA: Your favorite main character
I'm trying to stray away from using any of the Aurora Cycle books for these prompts, which makes this question…[ahem] difficult…
But for this one, I chose Ellie Baker from The Sound of Stars—she's rebellious and relatable, and she runs a secret library! Great taste in music, too.
SCARLETT JONES—THE FACE: Which character could talk themselves out of anything?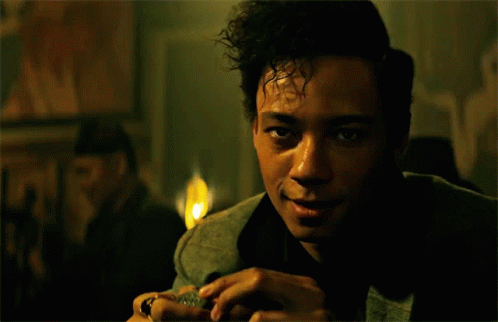 Jesper from Six of Crows would be able to fast-talk himself out of anything and everything. Would the other Crows approve? Probably not, but that's not what matters here, right?
ZILA MADRAN—THE BRAIN: A super smart character who would probably kill you
Genevieve from The Mermaid, the Witch, and the Sea is certainly a very deadly and cunning character—I'm interested to see what the sequel holds for her!
FINIAN DE KARRAN DE SEEL—THE GEARHEAD: Your favorite piece of fictional technology
Does a ship count as a piece of technology? This was a hard one, but the Harbinger—a giant ship that ferries the souls of the dead—from The Soul Keepers is a really cool concept for me. It's most of the reason that I picked up the book in the first place.
KAL GILWRAETH—THE TANK: A book that made you angry
(my boy Kal deserves a better prompt than this…😔👊)
I DNF'd An Absolutely Remarkable Thing at around the 30% mark; I was already debating whether or not to put it down, but the bisexual rep was HORRIBLY offensive for me, so I jumped ship. Would NOT recommend.
CAT BRANNOCK—THE ACE: A fictional crush you're still not over
I don't get book crushes all that often, and my main ones happen to be in Aurora Rising (Kal and Auri are both SO CUTE, I CAN'T HELP IT…now that's some bi panic for ya), but I've always thought Baz Pitch from Carry On looked cute on the cover art.
AURORA JIE-LIN O'MALLEY—THE GIRL OUT OF TIME: If you had to pick just one book or series to read for the rest of your life what would it be?
Okay, I'm breaking my self-imposed "I'm not using the book that inspired this tag as answers for this tag" rule, because the Aurora Cycle is the only series that fits this bill. I always come back to the books; in the past two years, they've become so uniquely dear to my heart, and I can't imagine what my life would be like without them in it.
I TAG:
+ any other Aurora Cycle fans who want to participate! If you see this tag and want to do it, I'd love to see your answers! And if I tagged you and you don't want to do the tag/have already done it, no worries.
Today's song:
That's it for this book tag! Have a wonderful rest of your day, and take care of yourselves! And of course, Squad 312 forever.