Happy Friday, bibliophiles!
I made a post a few months back discussing a handful of sci-fi tropes that I've seen in books—here it is, if you'd like to have a look! When I wrote it, I knew I'd be writing several more similar posts; the world of sci-fi literature is so diverse in its content, so there's no shortage of tropes, however specific, that I can discuss. Some of these tropes are broader and others are fairly minute, but I think they'll be a lot of fun to discuss.
So let's dive in, shall we?
SCI-FI TROPES: PART 2
MYSTERIOUS, TELEKINETIC WOMEN
Here's an interesting one to tackle. I see this one almost exclusively in space operas, but the basic premise is usually as follows: a woman, usually younger than the rest of the main cast, is either gifted with or born with unexplainable and unparalleled telekinesis. This power usually means that she's the main decider in ✨the fate of the universe✨. These powers of hers often result in mind-bending displays of grandeur, including but not limited to: killing enemies in disturbing ways, crumpling spaceships like soda cans, and bending space and time itself.
Often, these powers come along with an intense emotional burden; at the heart of it, there's a quintessential "why me?" dilemma with respect to her powers. Inner conflict is all part of the package with godly telekinesis, which often results in this character losing her mind and/or lashing out at other members of the cast. And, well…given that it's either a "puppet of an all-powerful cosmic entity" or "being devoured from the inside by space energy" situation, it's understandable.
What sometimes rubs me the wrong way about this trope—although I'm all for cosmic women tearing apart the fabric of the universe (who isn't?)—is the fact that most of these women have a lack of agency. Which, given that a lot of the characters that come to mind are written by men, is more than a little concerning. Even with all of this awe-inspiring power, these women are often portrayed as helpless. Many of their breakdowns about the burden of their power are often reduced to "oh, she's just a women being overly emotional, typical."
Which brings me to why I appreciate a particular instance of this trope—Auri from Aurora Rising. She may still be frightened of her own power, but she takes control of the situation—she takes it upon herself to master her powers, break away from the path that the Eshvaren have set for her, and ultimately save the galaxy. She has agency, and, yes, that's the bare minimum, but she's written with a significant amount of sway over her abilities as the books go on.
This trope can be poignant and powerful if used right, but if misused, it can lead to a lot of reductive stereotypes.
BOOKS WITH TROPES: Aurora Rising (Amie Kaufman and Jay Kristoff), Forgotten Star (Colin Weldon), The Stars Now Unclaimed (Drew Williams)
IF THE ALIENS AREN'T BASICALLY HUMANS, THEY'RE JUST ANTHROPOMORPHIZED ANIMALS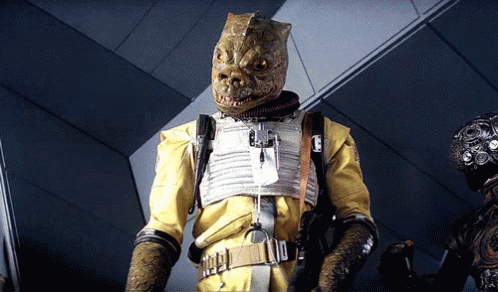 I get it. Creature design is hard—how do you create an alien that's simultaneously familiar enough for a reader to project onto (if that's the goal) but also weird enough to pass as "alien?"
In my last post, I talked about the trope of aliens that just looked like humans. That's the ultimate alien design deal-breaker for me, unless there's a good explanation for it. But in my opinion, the next level down is just making your aliens intelligent versions of animals with no other changes. Like the human-alien trope, it just feels like lazy design. It's not that basing your alien design off of a certain animal is bad—on some level, most alien design is just that. The lazy part is just making an upright version of an already existing animal and changing nothing beyond that. (Plus, if it's mammalian, you're just…making intergalactic furries? Uh…)
One of the worst examples that I can recall is from The Stars Now Unclaimed, which I DNF'd. Not only was their an alien species that were just upright wolves, the species itself was called a Wulf. I KID YOU NOT. At that point, it's almost…self-aware of how lazy it is? Or it seems that way, at any rate. But you just…don't do that. Under any circumstances.
BOOKS WITH THIS TROPE: The Stars Now Unclaimed (Drew Williams), Earth Force Rising (Monica Tesler), Columbus Day (Craig Alanson)
AND ON THAT SUBJECT, WHAT'S WITH ALL THE SPIDERS?
While we're on the topic of creature design, here's another trope that I've found several times. Lots of alien species in literature—most intended to be menacing, but not all—have been based on spiders, or described as spiders or spider-like.
One aspect of basing an alien design off of an animal is to still try and make it as alien as possible, and one way to do that is to base it off of an animal that many already consider "alien" or "scary." These are often invertebrates—cephalopods, jellyfish, insects, and arachnids—spiders. By creating a creature with elements that are already unnerving to a lot of people, you've achieved the effect of making it alien without making it totally unfamiliar.
But why spiders in particular? Most of the spider-aliens that I've seen at the forefront of sci-fi stories are meant to be menacing. I suppose there's already a latent metaphor of spiders catching unsuspecting prey in their webs, if menacing is the route the author intends to go on. If these characters are meant to be antagonistic, spiders are the perfect combination—not only do they look alien to us, but they're also a commonly feared animal. They're also involved in a lot of insidious metaphors, creatures known for ensnaring their prey in webs. I can speak to the "commonly feared" part myself—I'm fine with really small ones (jumping spiders and such—they're cute), but big spiders? No way. I blame the wolf spider that I found in my room when I was five. (WHY DO THEY RUN SO FAST AAAAAA)
As far as aliens with animal basis, I think spider-aliens are effective. Even if they do fall into the "animals with no changes other than intelligence" trope, at least they're not completely bipedal and upright—eight legs! But already, they're so wildly different from us—the perfect starting point for an interesting alien.
BOOKS WITH THIS TROPE: The Doom Machine (Mark Teague), Project Hail Mary (Andy Weir), One Giant Leap (Dare Mighty Things, #2) (Heather Kaczynski), The Outside (Ada Hoffmann)
THE FATE OF COMIC RELIEF RESTS ON THE MACHINES
Are none of your characters particularly funny? Have they not gotten the chance to banter properly? Are they all on a spaceship? I've got a trope for you, then…
This is the exact flip side of one of the tropes I mentioned in my first post—unhinged AI. Often times in space opera books with large cast, there is a character that's some sort of machine: a droid, a ship's AI, et cetera. But their main role, apart from providing convenient solutions to hacking-relation problems, is to lighten the mood.
So why machines? I'm not entirely sure myself, but I have a theory. Part of it may be to avoid risk—sometimes it's too dangerous to have a character whose only personality trait is to be "sassy" or "the funny one," so putting this personality onto an AI of some kind reduces the possibility of a one-dimensional flesh-and-blood character. AI are often reduced to minimal personality traits, as often, they're designed for a particular task. Unless they have a short character arc where they have an epiphany of some kind about breaking free of their programming, they're usually helpful vessels of humor in an otherwise hardened and dry-humored crew.
What's more about this trope is how often it shows up—pick up any space-opera in the bookstore or the library, and there's a good 75% chance that there's a minor Sassy AI™️ character. I hesitate to say that it's tried and true, but it's certainly difficult to screw up. The problem is that most of them have the same sense of humor—sass, "oh, you humans are so stupid haha" condescension, and making jokes at inopportune times. (There's also the inevitable running joke of the flesh-and-blood characters telling said AI character to shut up.) I appreciate good AI comic relief, but it's become a formula, almost to the point where what I once thought was hilarious now makes me feel almost nothing.
So give your AI something unique—glitches, specific quirks, something, anything that will set it apart from 50% of other machines on the shelf.
BOOKS WITH THIS TROPE: Aurora Rising (Amie Kaufman and Jay Kristoff), Columbus Day (Craig Alanson), To Sleep in a Sea of Stars (Christopher Paolini), Crownchasers (Rebecca Coffindaffer), Honor Among Thieves (Ann Aguirre and Rachel Caine)
TELL ME WHAT YOU THINK! What are your opinions on these tropes? What are some other tropes that you'd like me to discuss? Tell me in the comments!
Today's song:
That's it for this post! Have a wonderful rest of your day, and take care of yourselves!