Happy Tuesday, earthlings!
After Ray Bradbury opened my eyes to the vast world that is older sci-fi, I began receiving more and more similar recommendations on Goodreads. This one, in particular, caught my eye–mostly because of the beautiful cover art, not gonna lie, but what I found inside its pages was so much more. Though dense at times, and not without its flaws, but an incredible feat of literature nonetheless.
Enjoy this week's review!
Stranger in a Strange Land
Valentine Michael Smith is a newcomer to planet Earth, the famed Man from Mars that has recently captured the public imagination. Curious–and a bit afraid–of what this strange planet has in store for him, he ventures out into the vast world, with the help of  Jill, the nurse who broke him out of the hospital. The more Valentine learns, the more he realizes how different he truly is–though he looks like a human on the outside, he possesses powers far beyond human ability. Powers that could put his life–and the lives of those he holds dear–in jeopardy.
WHEW. Man, what a unique book!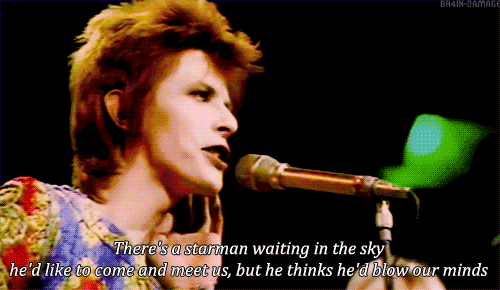 The further you read, the more you realize the level of care that Heinlein put into this piece. Every detail, from the political ramifications of Valentine's existence, to his native Martian customs, is so wonderfully complex. Of course, that did lend itself to an impressive amount of info-dumping, which made reading some portions of the book a bit of a headache, but hey, at least the guy's taking the time to think all of this out.
Even almost 60 years on, much of the book still holds up. Definitely not all of it–we've still got a heady dose of problematic sexism and such peppered in, but hey, I wouldn't exactly expect a white guy in the early sixties to be the wokest author on the market, not by a long shot. Not that this makes it okay, but I wasn't exactly expecting a feminist work from this. But other than that, the writing, the lovely imagery, and the startlingly realistic public backlash to the very existence of the Man from Mars speaks to many of our issues regarding xenophobia today. Even the absolutely scathing commentary on organized religion found within the pages–I mean, the main branch of Christianity that's evolved in this future world sounds like a religious version of a high school assembly–doesn't seem far off from what could evolve in the near future.
And beyond that, I've always empathized with alien characters. I've felt like something of an outsider my whole life, and part of me felt such pain for poor Valentine. Mostly in the first half of the book, at any rate, but nonetheless.
All in all, a solid four and a half stars for me. 
Before I go, here's a fun fact: according to John O'Connell's Bowie's Bookshelf: The Hundred Books that Changed David Bowie's Life, there was almost an adaptation of Stranger in a Strange Land in the early seventies, with David Bowie as Valentine Michael Smith. And by Bowie, I mean ZIGGY ERA BOWIE.
ZIGGY ERA.
I WOULD'VE WATCHED THE EVER-LOVING HECK OUTTA THAT, LET ME TELL YOU…
aaaAAAaAAAaAAAAaaAAAAAAAA
Today's song:
4:49–4:54: TURN YOUR VOLUME DOWN A BIT JUST A WORD OF ADVICE
That just about wraps up this post! Have a lovely rest of your day, and take care of yourselves!