Happy Monday, bibliophiles! I'm finally back from Florida, and it's so good to be back home. However, it was more than jarring watching the plane go through a layer of wildfire smoke to land…CLIMATE CHANGE IS VERY VERY REAL, FOLKS
[ahem] anyways, Goodreads Monday is a weekly meme created by Lauren's Page Turners. All you have to do to participate is pick a book from your Goodreads TBR, and explain why you want to read it.
I don't usually put graphic novels in these posts, but I figured this one would be a nice change. Retrograde Orbit seems like a very unique comic, with a sci-fi aesthetic blended with themes of home and relationships!
Let's begin, shall we?
GOODREADS MONDAY (8/9/21) – RETROGRADE ORBIT by Kristyna Baczynski
At the outer edge of the solar system, on the mining planet Tisa, Flint and her mother live in the colony of Swift Springs. Displaced by a nuclear event, Flint's family settled in Swift Springs two generations ago to become miners. Soon Flint will be old enough to begin her apprenticeship at the refinery. But is the home that her family has built for her enough, or will a mysterious, irradiated planet pull her away from them? By following in their footsteps and leaving to forge a new path, is she betraying her family, or honouring their legacy? Exploring notions of home and the desire to leave it, Kristyna Baczynski's first graphic novel is a story of relationships, of time and of the motion of the universe.
So why do I want to read this?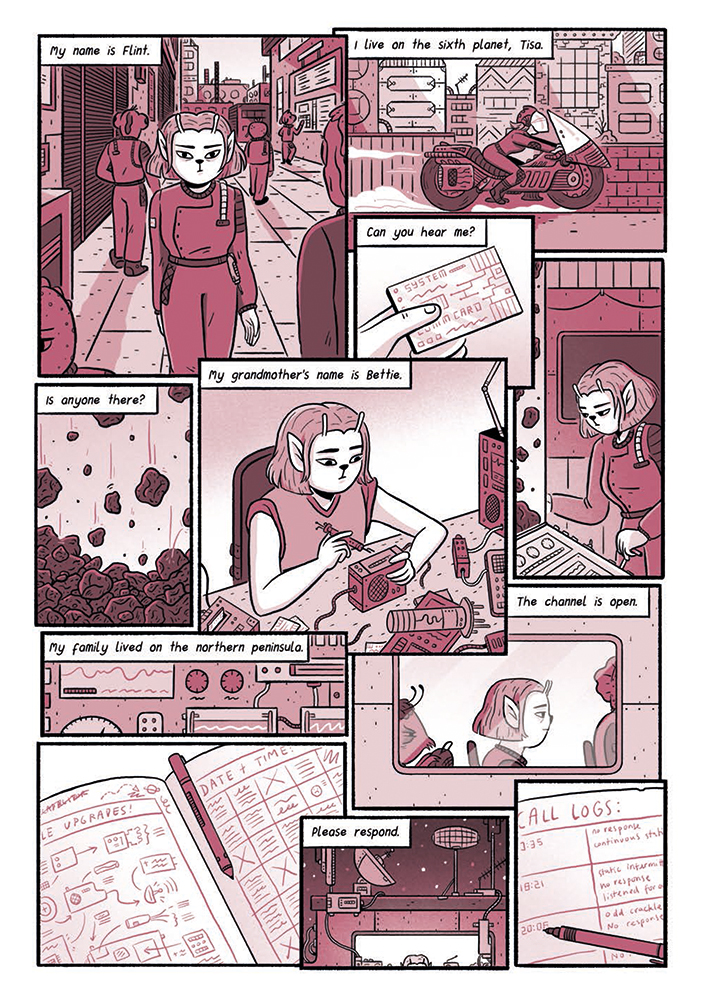 When I looked up images of some of the comics panels, I was immediately reminded of Tillie Walden – the monochrome color scheme with colors that shift from act to act, and the simultaneously cartoonish and intricate style of the illustrations. I'm not sure if I like how Flint and all the other aliens design-wise, but I do like Baczynski's art style.
Beyond that, this sounds like just my kind of quiet sci-fi! We don't often get sci-fi novels that deal with the softer, more mundane aspects of life; more than not, it's all big explosions and high drama. Quiet sci-fi and fantasy is something that I really wish would be done more, because even though they're set on different worlds, it can sometimes be even more impactful to explore everyday things through the eyes of something or someone completely imaginary. Retrograde Orbit looks like it promises a lot of that – a coming-of-age exploration of independence, family, and leaving things behind. I'm on board!
Today's song:
That's it for this week's Goodreads Monday! Have a wonderful rest of your day, and take care of yourselves!