As my English teacher said this morning, Happy Monday…if there is such a thing.
Goodreads Monday is a weekly meme created by Lauren's Page Turners. All you have to do to participate is pick a book from your Goodreads TBR, and explain why you want to read it.
Without further ado, this week's Goodreads Monday!
GOODREADS MONDAY (1/13/20)–HOLLOW KINGDOM by Kira Jane Buxton
One pet crow fights to save humanity from an apocalypse in this uniquely hilarious debut from a genre-bending literary author.
S.T., a domesticated crow, is a bird of simple pleasures: hanging out with his owner Big Jim, trading insults with Seattle's wild crows (those idiots), and enjoying the finest food humankind has to offer: Cheetos ®.
Then Big Jim's eyeball falls out of his head, and S.T. starts to feel like something isn't quite right. His most tried-and-true remedies–from beak-delivered beer to the slobbering affection of Big Jim's loyal but dim-witted dog, Dennis–fail to cure Big Jim's debilitating malady. S.T. is left with no choice but to abandon his old life and venture out into a wild and frightening new world with his trusty steed Dennis, where he discovers that the neighbors are devouring each other and the local wildlife is abuzz with rumors of dangerous new predators roaming Seattle. Humanity's extinction has seemingly arrived, and the only one determined to save it is a foul-mouthed crow whose knowledge of the world around him comes from his TV-watching education.
Hollow Kingdom is a humorous, big-hearted, and boundlessly beautiful romp through the apocalypse and the world that comes after, where even a cowardly crow can become a hero.
So why do I want to read this?
Many a post-apocalyptic read has passed over my eyes, and I've seen a handful of novels from the perspective of animals in this genre. But a crow? They're such intelligent little creatures; I'd love to read a book that's entirely from their perspective. It takes a talented author to not just create a non-human character, but to get inside their mind, to explore their instincts, to live as they would.
In other words: You had me at "post-apocalyptic book told from the perspective of a crow".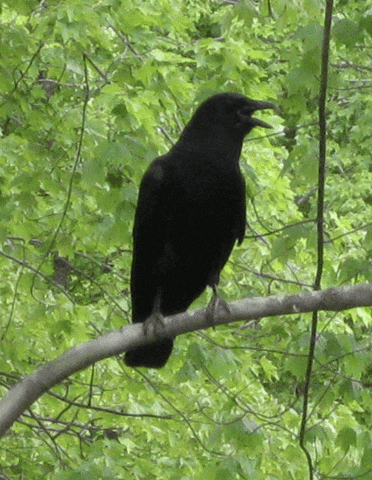 I'm also interested to see how they portray the relationships between this crow and his human and other animal companions; whether purely biologically based or fantastical, I'm so excited to see how Buxton executes this.
Today's song (which has been stuck in my head for almost a week, and I'm completely fine with it):
[off-key singing] oOOOOOooOoooo loverrrr bOOOOOOOOOYYYYyyyY
That just about wraps up this week's post! I'll be back with a Book Review Tuesday tomorrow, but be warned: I'm probably going to be a bit more sluggish in terms of posts, as I've got a lot coming up in school (*coughcoughHONORSBIOcoughcough*), and I'm going to try and go the Womxn's March on Saturday. (I'll try and post a few photos from the latter.)
Have a great rest of your day, and take care of yourselves!