Happy Friday, bibliophiles! I hope this week has treated you all well.
I received several eARCs from Edelweiss last week, and now that I'm finished with my library haul, I've steadily been working my way through them. (Expect a few reviews in the future!) This was the first of the three that I read, and though it certainly wasn't a perfect book, it was a lot of fun–and there's great representation, too!
Enjoy this eARC review!
Dani and Eden are your typical sisters. Sometimes they're close, sometimes they fight, but they can always count on each other to keep each other's secrets.
Secrets like the family job: dragon slaying.
Dani, recently graduated from high school, looks to begin her training in dragon slaying, already displaying prodigal talents. But when she discovers a dragon in the woods, she realizes that the beliefs that she and her family have held for generations may be turned on their heads. Nox–and the rest of the dragon species–is in danger, and his bond with Dani may be the saving grace of his kind.
Meanwhile, Eden is determined to get her sister back on the side of the Sorcerers and their dragon-slayer allies, and she'll do anything to track Dani down…
Thank you to Edelweiss+ and HMH Books for Young Readers for giving me this eARC in exchange for an honest review!
Fire With Fire was certainly a solid fantasy! Though there were several elements that left a little to be desired, this one boasts great representation, realistic characters, and a variety of complex character arcs!
Let's start off with the representation, because frankly, IT GOT ME SO EXCITED. Dani is mixed-race (half white, half Latinx) and bisexual; having a protagonist like her, blazing trails and allying with dragons, just filled me with immeasurable joy. So a heartfelt thank you to Soria for that! 💗
Going off of that, Soria's cast of characters was one of my favorite aspects of Fire With Fire. Dani was such a strong, independent protagonist, and I loved all the banter between her and Nox. There's a wide cast of side characters, and though a good portion of the dialogue felt stilted at times, they all have great chemistry. Eden was the perfect character that you love to hate, and her negative character arc was a bright spot in the novel for me. Personally, I would've liked to see her go *completely* to the dark side, but it's nice that she and Dani had a happy ending and mended their broken relationship.
The worldbuilding department could have used a bit of polishing up, however. There's some established enmity/history between the sorcerers, dragon slayers, and the dragons themselves, but I feel like there wasn't enough information to make it feel immersive. It was a good start, but there were places where it could have been fleshed out. But I loved the design of the dragons! All of the lore behind them was fascinating, and they certainly had a creative role in the story. Gotta love Nox.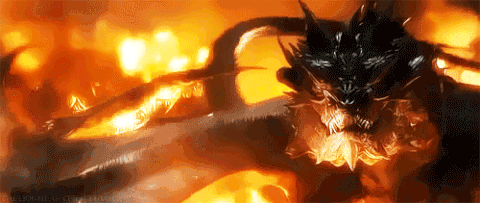 Like the worldbuilding, the romantic subplot definitely felt rushed. Her and Kieran's relationship also needed some fleshing out…or some rehashing all together, personally. Mostly due to the fact that Kieran's…well, he's a 200 year old sorcerer who still looks 20 (because magic), and Dani's barely out of high school. So that's definitely…questionable. Kind of uncomfy. Not ideal.
It was a little bit tricky to keep track of the POV breaks between Eden and Dani (they sometimes occurred in the middle of the chapter), but for all I know, it might change when the finalized novel is released. The plot–particularly the roles of Calla and the other sorcerers–was very predictable, but it was a fun, magical thrill ride all the way through. And with the open way in which it ended, it could be a standalone or the start to a series. I'm suspecting the former, but I wouldn't say no to more of Dani and Nox kicking butt and setting things on fire.
All in all, a fantasy that was lacking in authentic dialogue and worldbuilding, but (mostly) made up for it with action, characters, and representation. 3.5 stars!
Expected release date: June 8, 2021
Today's song:
I can't listen to the chorus without immediately wanting to dance, or at least nod my head…
That's it for this eARC review! Have a wonderful rest of your day, and take care of yourselves!