Happy Monday, bibliophiles!
I've been a fan of A.R. Capetta for a while, but I've never gotten around to reading their debut. I'll read any promising space opera that I come across, and judging from how fantastic Once & Future was, I'm hoping this novel will be more of the same.
Let's begin, shall we?
GOODREADS MONDAY (11/15/21) – ENTANGLED by A.R. Capetta
Alone was the note Cade knew best. It was the root of all her chords.
Seventeen-year-old Cade is a fierce survivor, solo in the universe with her cherry-red guitar. Or so she thought. Her world shakes apart when a hologram named Mr. Niven tells her she was created in a lab in the year 3112, then entangled at a subatomic level with a boy named Xan. 
 Cade's quest to locate Xan joins her with an array of outlaws—her first friends—on a galaxy-spanning adventure. And once Cade discovers the wild joy of real connection, there's no turning back.
So why do I want to read this?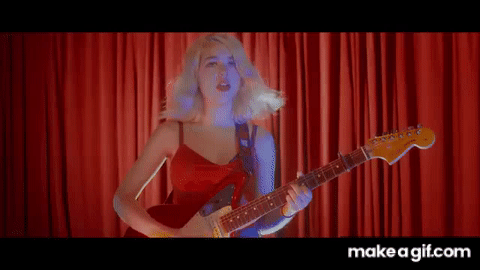 I'm already a sucker for space opera, but guitars? A cherry-red guitar, to be exact? [aggressively slams credit card on the table]
I've read nearly everything of A.R. Capetta's, so that's already a motivation for me to read Entangled. Their prose is consistently hooking, and their LGBTQ+ representation never fails. Once & Future is their only other sci-fi book, so I'm hoping that reading Entangled will give me a glimpse of how they've grown in the genre since then.
Even if it wasn't A.R. Capetta, I would have 100% been on board! We've got a whole host of factors that are simultaneously drawing me in—aliens, outlaws, galaxy-spanning quests…what's not to love? Plus, I already adore the concept of Cade as this reluctant, wandering traveler who just wants to play guitar. I feel you, Cade, I feel you.
The reviews on this one are leaning on the mediocre side (3.54 at present), but at this point, I'm undeterred. Most of the complaints have been about the flimsy science, which, well…I know when a piece of media is just sticking "quantum" onto every other word to make them sound smart, but I also deliberately didn't take a physics class, so it shouldn't be a major issue. As for the execution (the other major complaint)…well, I guess I'll see for myself.
Today's song:
That's it for this week's Goodreads Monday! Have a wonderful rest of your day, and take care of yourselves!