Happy Saturday, bibliophiles! I suppose this isn't a bookish post, but I'll keep my normal greeting, because hey, most of what I post is about books. But here's something a little different.
So here I am, finally reviewing Little Oblivions!
I got into Julien Baker late last year, starting with Sprained Ankle after hearing her distinct voice as part of the supergroup boygenius (with Phoebe Bridgers and Lucy Dacus). I was immediately hooked on Sprained Ankle, liked but didn't love Turn Out the Light (Sprained Ankle > Turn Out the Lights, fight me Pitchfork), and so of course I was excited to see that she was coming out with something new. What stands out most to me about her music is the raw emotion of it; Baker never hesitates to explore the darker side of everything, and does so with such intense, palpable motion. Even with just a guitar or a piano, she can make a shrieking ballad of grief or heartbreak out of anything.
And I'm glad to say Little Oblivions is no exception. While Baker experiments with bigger, brighter sound, she stays true to the emotional aspect that defines her body of work, making a whole new set of resonant and soaring music.
So let's begin this review, shall we?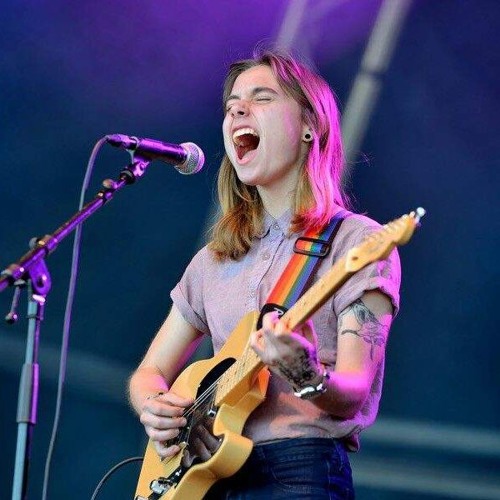 JULIEN BAKER – LITTLE OBLIVIONS (album review)
TRACK 1: "Hardline" – 9/10
Say it's not so cut and dry,

Oh, it isn't black and white,

What if it's all black, baby,

All the time?

– Julien Baker, "Hardline"
NOW THIS IS WHAT I CALL AN AMAZING OPENING TRACK! Baker's foray into new, more electronic sound proves an immediate hit, paired with her signature raw lyricism. Plus, we've got an amazing stop-motion music video to match!
TRACK 2: "Heatwave" – 7.5/10
The last single to be released before the whole album, "Heatwave" is reminiscent of the boygenius EP. There's a deceptively upbeat tone and composition to it, hiding some of Baker's darkest lyrics. The instrumentation almost reminds me of Wilco.
TRACK 3: "Faith Healer" – 9/10
This one was the first single to be released before the whole album, and it has been a consistent earworm for MONTHS, let me tell you…
Such beautiful, concise instrumentation, a steady beat, and even the effects overlaid over Baker's unique voice fit right in with the almost spacey keyboards. A completely new direction for her musically, but one I'm ADORING.
TRACK 4: "Relative Fiction" – 9/10
'Cause I don't need a savior,

I need you to take me home…

– Julien Baker, "Relative Fiction"
It would be a bit of a stretch to call this a love song, but that's almost how I interpreted it on the first listen. "Relative Fiction" delves into Baker's quieter, more musically sparse roots for a tender and poignant song of grappling with emotions and questioning one's own self worth, and the meaning one might hold for others.
TRACK 5: "Crying Wolf" – 7.5/10
Continuing "Relative Fiction"'s trend of quieter and sadder introspection, "Crying Wolf" presents a piano ballad reminiscent of Turn Out the Lights that soars to a resonant conclusion. (That "OOOOOO" that starts at about 2:33…[CRIES])
TRACK 6: "Bloodshot" – 7/10
There's no glory in love,

Only the gore of our hearts…

– Julien Baker, "Bloodshot"
The song where we get the album cover's gorgeous lyricism, "Bloodshot" toes the line between the two musical themes of Little Oblivions so far, oscillating between the electronic experimentation and the sparser, quieter ballads. Another deceptively upbeat song, telling of messy emotions and shaky relationships.
TRACK 7: "Ringside" – 6.5/10
I still enjoy this one, that's for sure, but it felt a little bit like a lull in the middle. The lyricism is still stellar, but something about it doesn't pack as much of a punch as the rest of the album so far has.
TRACK 8: "Favor" – 8.5/10
You pulled a moth out

From the grill of your truck,

Saying it's a shame,

How come it's so much easier

With anything less than human,

Letting yourself be tender?

– Julien Baker, "Favor"
As with "Graceland Too" on Phoebe Bridgers' Punisher, this boygenius collaboration truly shines. The combination of the voices of Baker, Bridgers and Dacus never fails to make my heart soar to the clouds, and paired with such poignant lyrics, "Favor" is absolutely a highlight of this album.
TRACK 9: "Song in E" – 10/10
My favorite song on the album, hands down. This one again harkens back to Turn Out the Lights, but something about both the piano and Julien's vocals takes it to all new heights. It's just…[sniffles]
And something about the way she says "name" at about 0:40 just makes my heart go 🥺🥺🥺🥺🥺🥺🥺🥺🥺🥺🥺🥺🥺🥺🥺🥺
TRACK 10: "Repeat" – 9/10
Ocean of strip malls,

I help you swim across

To the other side…

– Julien Baker, "Repeat"
Another example of Julien's decision to go more electronic with her sound paying off 100%. Catchy, but continually poetic in its lyricism, this was one of my favorite songs that wasn't released as a single before the album's released. Again, can't put my finger on it, but I love the way Baker sings all of the words past the 3/4 mark with the long 'e' sound (ex. means, speak, street, dream, repeat). My brain can't be troubled for a concrete reason, but it's so beautiful.
TRACK 11: "Highlight Reel" – 7.5/10
Not my favorite on the album, but the instrumentation itself is what shines for me. I love the drums, the guitar, the…well, the everything. I can't quite pick out what instrument (probably keyboard?) it is, but the part from about 3:21 to the end reminds me a bit of St. Vincent's "Teenage Talk."
TRACK 12: "Ziptie" – 6.5/10
Not the best ending for this album and a lower point overall, but still lovely. The lyricism is still painfully beautiful, but it just seems to wander about almost aimlessly. A good listen, but maybe something like "Repeat" or "Bloodshot" would have been a better end to the album.
I averaged out all of the scores for each track, and they came out to almost exactly 8! I'd say that's accurate; Little Oblivions wasn't without its occasional low points, but even those were songs that I'll surely come back to. A stellar album, and a bold new direction that payed off with every song.
And even though this wasn't on the album, I can't not talk about this…
I–
I think I've died and gone to heaven. This is a transcendental cover. And hey, Julien Baker and Radiohead: two of my favorite things.
Since this post is full of songs, consider this whole album today's song.
That's it for this album review! Have a wonderful rest of your day, and take care of yourselves!