Happy Saturday, bibliophiles!
Before I get going with this tag, I thought you'd all appreciate this…I'm currently in Florida helping my grandma clean out her house, and we've found all sorts of weird things lying around. But yesterday I found something great that I figured my fellow bibliophiles would appreciate…
…it appears Kaz Brekker left his cane in Florida. (My friend suggested that it was Inej's revenge for him calling her an investment SKDJFHSKJDFHSKDJFH)
We're shipping this back home soon, so I might just have a Halloween costume for this year…😳
Now for the book tag! I found this over at Kira Jeanette's blog, and the tag was originally created by Rebecca McPeake on YouTube. I'm a huge Grishaverse fan, so I had to give this one a go!
Let's begin, shall we?
🦌THE GRISHAVERSE BOOK TAG🐉
KAZ BREKKER: A book you shouldn't judge by its cover
UHHH THIS PROMPT WAS REALLY HARD –
Anyway, even though the cover for this edition of Zero Repeat Forever doesn't make a whole lot of sense before reading the book, but I assure you, this one's a treasure. (Maybe just stick with book 1, though? Book 2 was…weird, to say the least…)
NINA ZENIK: A book that made you feel empowered
Sawkill Girls was a PHENOMENAL book – not only was the paranormal aspect amazing, but I loved the themes of sisterhood and feminine empowerment throughout. Highly recommended!
INEJ GHAFA: A book with a good balance of character and plot
Gearbreakers hit the perfect notes for me – I loved the plot, I loved the characters, and those two aspects were balanced so neatly! I am a little partial to all the characters interactions, though, because the chemistry between Eris and the rest of the Gearbreakers was so sweet…🥺
ALINA STARKOV: A unique book, one that is unlike anything you've ever read
I've seen a lot of genre-bending books out there, but rarely do ones like Sia Martinez and the Moonlit Beginning of Everything come along – a seamless mix of sci-fi, contemporary and magical realism that tugged at all my heartstrings!
MAL ORETSEV: A book that always sticks with you
Okay, I only finished this one on Tuesday, but MAN. THIS BOOK. The Darkness Outside Us is my most recent 5-star read as of now – it started out like any other sci-fi thriller, but it quickly took a turn for simultaneous darkness, philosophical musings, existential crises, and a little bit of hope. I could not stop thinking about it, and I still can't. (Expect a review next week!)
THE DARKLING: A book with a dark plot/storyline
There's a lot of dark things about I'm Thinking of Ending Things – this one could've fit with the last prompt as well, since it's stuck with me for quite a while too…(the movie's amazing as well!)
JESPER FAHEY: A book that people always seem to leave out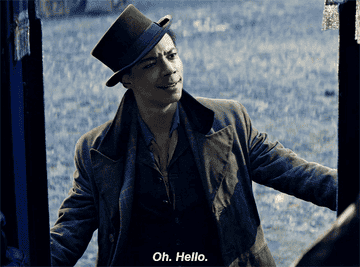 Okay, okay, I know I put this book in every single book tag I do, but HEAR ME OUT…
As I'm starting to see Ashley Poston's books get the recognition they deserve, it feels like Heart of Iron is left out of a lot of the discussion, which is such a shame, seeing as it's everything you could ever want in both a space opera and a retelling…
WYLAN VAN ECK: A book that wasn't what it seemed at first
I'm just gonna slap this one in here and count the show in too…without spoiling anything, Invincible starts out like most every superhero origin story, but it gets a lot darker VERY quickly, trust me…
MATTHIAS HELVAR: A book that was bad at first but turned out good
This one was another hard one, so this is the closest I could find…
I wouldn't say The Mermaid, the Witch, and the Sea started out badly, per se – it was just a little slow to start. But once it got going, it turned out to be one of my favorite reads of this year so far!
NIKOLAI LANTSOV: A witty book
How Rory Thorne Destroyed the Multiverse had no shortage of sarcasm and tongue-in-cheek parody, and I loved every minute of it!
I TAG:
+ anyone else who wants to participate! If you see this tag and want to do it, I can't wait to see your answers! And if I tagged you and you've already done it/don't want to do it, my bad!
Today's song:
That's it for this book tag! Have a wonderful rest of your day, and take care of yourselves!