Happy Monday, bibliophiles!
Goodreads Monday is a weekly meme created by Lauren's Page Turners. All you have to do to participate is pick a book from your Goodreads TBR, and explain why you want to read it.
I haven't given realistic fiction/contemporary books as much love on my Goodreads Monday posts, so I figured this book would be a good shift to that dynamic. Plus, I'd forgotten that this novel existed for a little while…
Let's begin, shall we?
GOODREADS MONDAY (4/27/20)–QUESTIONS I WANT TO ASK YOU by Michelle Falkoff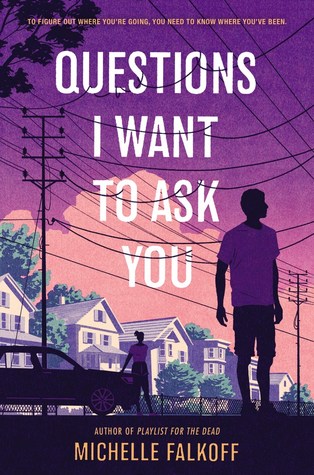 Patrick "Pack" Walsh may not know exactly where he's going in life, but he's happy where he is. He's got a girlfriend who gets him. His single dad is his best friend. After graduation, he has a desk job lined up at the local crossfit gym, maybe he'll even work his way up to trainer. He can't see himself ever leaving the small town of Brooksby, MA. And he's fine with that.
Then, on his eighteenth birthday, a letter from Pack's mother changes everything.
Pack hits the road, searching for a mother he's never known and a family he had no idea existed until now. His journey unearths questions about both of his parents that he never saw coming. And by the end of the summer, Pack has a whole different understanding of his past—and most importantly, where he wants his future to lead.
So why do I want to read this? 
First of all, even though the book is written by a woman, it's nice to get a male perspective in a subgenre of YA that usually features more female protagonists. It's always good to get that perspective.
And speaking of different perspectives, this seems like a fascinating journey–not only on the road to discovering the long-kept secrets of Patrick's long-lost mother, but a journey in a mind that is wildly different from mine. It should be interesting to see how this character deals with this trek of self-discovery–a common theme in YA literature, but one that looks like it's going to be dealt with in an inventive way.
Plus, the color scheme of the cover is *incredibly* pleasing, I love that cover art…
Today's song:
[ahem] So I just finished the first season of Fargo last night, and I've all but lost the ability to form anything close to a coherent thought…AAAAAAAAA
That's it for this week's Goodreads Monday! Have a wonderful rest of your day, and take care of yourselves!