Happy Monday, bibliophiles!
Goodreads Monday is a weekly meme created by Lauren's Page Turners. All you have to do to participate is pick a book from your Goodreads TBR, and explain why you want to read it.
This one was just published this April, and I'm ITCHING to get my hands on it. I desperately need to get some more Laura Lee Gulledge in my life, so here goes nothing…
GOODREADS MONDAY (8/17/20)–THE DARK MATTER OF MONA STARR by Laura Lee Gulledge
Sometimes, the world is too much for Mona Starr. She's sweet, geeky, and creative, but it's hard for her to make friends and connect with other people. She's like a lot of sensitive teenagers—but in the hands of graphic novelist Laura Lee Gulledge, Mona's struggle with depression takes on a vivid, concrete form. Mona calls it her Matter. The Matter gets everywhere, telling Mona she's not good enough, and that everyone around her wishes she would go away. But through therapy, art, writing, and the persistence of a few good friends, Mona starts to understand her Matter, and how she—and readers—can turn their fears into strengths. Heartfelt, emotionally vulnerable, and visually stunning, The Dark Matter of Mona Starr is a story that takes the inner life of a teenager seriously, while giving readers a new way to look at the universal quest for meaning and connection.
So why do I want to read this?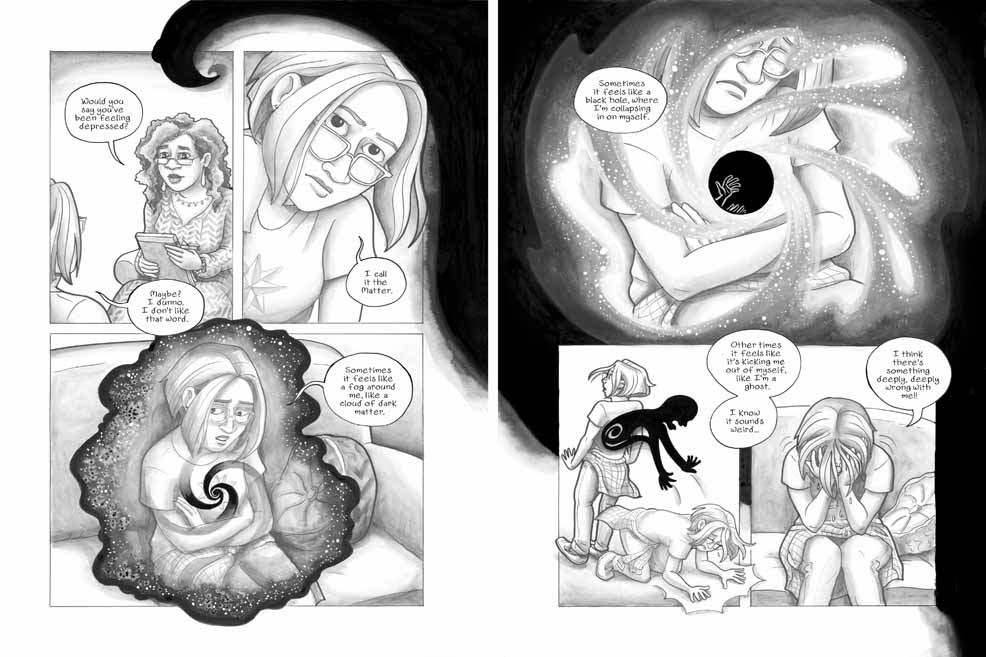 I've been a fan of Gulledge since I read and loved Page by Paige almost exactly two years ago. The combination of her phenomenal art style and the heart brimming from every panel made her work such a joy to read, and the graphic novel's stuck with me ever since.
Of course, I've yet to read anything beyond the latter (though Will and Whit has been on my TBR for a while). When I found out she had a new graphic novel, I was ECSTATIC. And The Dark Matter of Mona Starr sounds like it could be just as masterful as her other graphic novels!
Tackling something like depression is never an easy task, but I have every confidence that Gulledge's style and capturing of human nature will make this appeal to all readers–whether or not they have depression, and whether or not they normally read comics or graphic novels. In short, this looks beautiful, and I need more of Laura Lee Gulledge's art in my life.
Today's song:
That's it for this week's Goodreads Monday! Have a wonderful rest of your day, and take care of yourselves!