Happy Monday, bibliophiles!
(whew, it's been a while since I've done one of these…ap tests, man…)
Goodreads Monday is a weekly meme created by Lauren's Page Turners. All you have to do to participate is pick a book from your Goodreads TBR, and explain why you want to read it.
For the remainder of the month, I'm going to feature some #OwnVoices AAPI books from my TBR for Goodreads Monday, starting with this one! I forget exactly how I came across this one, but it sounds like so much fun – I really need to read more mistaken-identity stories!
Let's begin, shall we?
GOODREADS MONDAY (5/17/21) – SISTERS OF THE SNAKE by Sasha and Sarena Nanua
A lost princess. A dark puppet master. And a race against time—before all is lost.
Princess Rani longs for a chance to escape her gilded cage and prove herself. Ria is a street urchin, stealing just to keep herself alive.
When these two lives collide, everything turns on its head: because Ria and Rani, orphan and royal, are unmistakably identical.
A deal is struck to switch places—but danger lurks in both worlds, and to save their home, thief and princess must work together. Or watch it all fall into ruin.
Deadly magic, hidden temples, and dark prophecies: Sisters of the Snake is an action-packed, immersive fantasy that will thrill fans of The Crown's Game and The Tiger at Midnight.
So why do I want to read this?
First off, how cool is it that this book was written by twins? Something about that just makes the already amazing premise of this book even more amazing.
Mistaken identity is a trope that shows up quite a lot in fantasy, to varying degrees of success. But I love the concept of Rani and Ria's situation here: two entirely different backgrounds, chaos ensues, reluctantly working together. I haven't had much luck with YA fantasy lately, so I'm thinking this one will be great! I shouldn't get my hopes up too high, though…
Eh, when has that ever stopped me?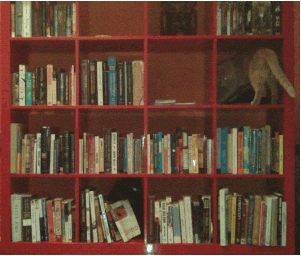 Sisters of the Snake is set to come out on June 15, 2021, so I'll see you all then…
Today's song:
That's it for this week's Goodreads Monday! Have a wonderful rest of your day, and take care of yourselves!