Happy Sunday, bibliophiles! I hope this week has treated you well.
How is it that this week still felt so tiring even when I had a day off and a two-hour delay?
It's been an alright week, though. Very cold. We got two snows in the span of two days, and it feels very much like January right now. Of course, my art teacher made us go on a walk to collect reference pictures…in 20 degree weather on a slippery path. I suppose I did get a good picture of the lake with a thin ice sign.
It's been a slightly slower reading week, but I got through all of my library books and liked a good portion of them! Anthem was a rough ride, but most of the other books managed to lift me up a little. I haven't been able to edit my WIP as much this week, but I finished my initial read through! Now I just need to run through and fix all the continuity errors (that I can catch) and flesh out some things that need to be fleshed out.
Other than that, I've just been drawing some X-Men characters (I should really post some of my art here at some point…I've been saying that for at least two years and haven't done anything oof), studying, learning "Trimm Trabb" on guitar, and trying to stay warm. I also re-watched Edward Scissorhands last night, and needless to say, Felt Things
🥲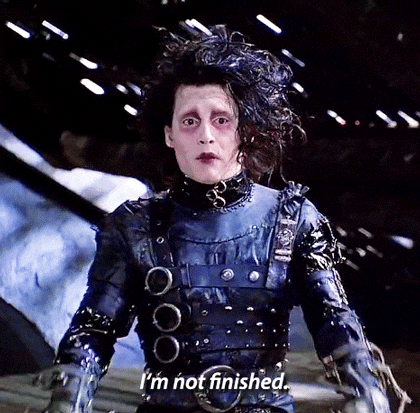 WHAT I READ THIS WEEK:
Anthem – Noah Hawley (⭐️⭐️⭐️.75, rounded up to ⭐️⭐️⭐️⭐️)
Railhead (Railhead, #1) – Philip Reeve (⭐️⭐️⭐️.75, rounded up to ⭐️⭐️⭐️⭐️)
Not Your Sidekick (Sidekick Squad, #1) – C.B. Lee (⭐️⭐️)
Who's Afraid of Virginia Woolf? – Edward Albee (read for school) (⭐️⭐️⭐️⭐️.5)
The Cost of Knowing – Brittney Morris (⭐️⭐️⭐️⭐️)
Batman: Nightwalker – The Graphic Novel – Marie Lu, adapted by Stuart Moore and Chris Wildgoose (⭐️⭐️⭐️.5)
POSTS AND SUCH:
SONGS:
CURRENTLY READING/TO READ NEXT WEEK:
Tides of Mutiny – Rebecca Rode
Landscape with Invisible Hand – M.T. Anderson
The Traitor's Kiss (The Traitor's Circle, #1) – Erin Beaty
Who I Was with Her – Nita Tyndall
Today's song:
That's it for this week in blogging! Have a wonderful rest of your day, and take care of yourselves!