So many (thousands) of books, piled up for so many years, and so little time…
My TBR will need some routine cleaning for a long time to come, so expect these posts frequently. 😉
The Rules
1. Go to your Goodreads To-Read shelf
 2. Order on ascending date added.
 3. Take the first 5 (or 10 if you're feeling adventurous) books.
 4. Read the synopsis of the books.
 5. Time to Decide: keep it or should it go
Here goes nothin'…
1. Since You've Been Gone, Morgan Matson
It was Sloane who yanked Emily out of her shell and made life 100% interesting. But right before what should have been the most epic summer, Sloane just…disappears. All she leaves behind is a to-do list.
On it, thirteen Sloane-inspired tasks that Emily would normally never try. But what if they could bring her best friend back?
Apple picking at night? Okay, easy enough.
Dance until dawn? Sure. Why not?
Kiss a stranger? Um…
Emily now has this unexpected summer, and the help of Frank Porter (totally unexpected), to check things off Sloane's list. Who knows what she'll find?
Go skinny-dipping? Wait…what?
Hmm. This sort of "disappearing and/or dead friend leaves behind a massive bucket list" trope is starting to become far more prevalent in YA, but this one looks cute enough. Fluffy, but I think I'd enjoy it.
VERDICT: KEEP
2. Departure Time, Truus Matti
A run-down hotel on a bare plain: the only hiding place for a girl in the rain. Once inside, a fox offers her a chair. A suspicious rat acts like he has met her before. But she can't remember anything. Not even her own name…. At the hotel she finds more questions than answers. She hears piano music, but can't find the piano. And what about the pieces of paper flying around the plain? While she tries to mend these pieces together, the pieces in her mind start to come together as well. And then she remembers the question she really wants to be answered. DEPARTURE TIME is an amazing journey of a girl in two stories. There is the girl in the hotel with the fox and the rat. And there is the girl with a father who travels a lot and who suggests to write a story together. A story about talking animals. But she doesn't want to. She is angry with him, because he can't make her birthday in time. Again. The two stories slowly start to intertwine and come together in a surprising ending.
I'm all for whimsical stories, but just from the synopsis alone, this one…what? What? I…what's supposed to be going on?
VERDICT: LET GO
3. Mortlock, Jon Mayhew
The sister is a knife-thrower in a magician's stage act, the brother an undertaker's assistant. Neither orphan knows of the other's existence. Until, that is, three terrible aunts descend on the girl's house and imprison her guardian, the Great Cardamom. His dying act is to pass the girl a note with clues to the secret he carries to his grave.
Huh. That's a rather short description. I think I'd need more information if I'd want to read it. I get it, synopses are supposed to hook you without giving the plot/big reveal away, but…I need more than four sentences, please…
VERDICT: LET GO
4. Bookhunter, Jason Shiga
Ripped from today's headlines, Bookhunter fires off and you can't quit reading. The excitement is fulfilling. The year is 1973. A priceless book has been stolen from the Oakland Public Library. A crack team of Bookhunters (aka. library police) have less than three days to recover the stolen item. It's a race against the clock as our heroes use every tool in their arsenal of library equipment to find the book and the mastermind who stole it.
Okay, as someone who has practically grown up in my local library (and now volunteers in it), this sounds like an absolute riot. 
VERDICT: KEEP
5. Black Bead (Black Bead Chronicles, #1), J.D. Lakey
On a savage, outlying planet an enclave of psionically-trained humans have built a utopian, matriarchal society that lives in harmony with all life. Leaving behind the polluted and corrupt world in which they lived, they colonized a new home far from the eyes of the galactic empire. Shielded from the rest of the galaxy by the dangerous beasts that inhabit their lush, forested world, the village lives a simple life under their Home Dome. But their goal was more than just to live in peace – they wanted to create the perfect human who could bring peace to the galaxy. Rather than merely cloning themselves, they began to manipulate genes in order to create a race of mutants with enhanced telepathic powers. Under the direction of the ruling coven, each child of the Windfall Dome is tested at a young age to asses their abilities – a test which is can plot the course for the rest of their lives. Unfortunately, Cheobawn – the daughter of the ruling First Mother to the dome – is marked with the Black Bead on her Choosing Day, a symbol of bad luck and shame. It seems the child the village had placed so much hope in would not be the future ruler they had hoped for. Yet there is something powerful about her that the elders don't understand. Finally of age, Cheobawn is chosen to join a pack to act as the psychic Ear on a foraging mission outside the dome. She knows this is her chance to prove herself. But something sinister stalks them and each member of the pack must draw on their unique strengths and a lifetime of training if they want to survive to see another day. In her visionary new series, The Black Bead Chronicles, author J.D. Lakey invites you to journey along with Cheobawn, Megan, Tam, Connor, and Alain as they use their wits and their Luck to unravel the mysteries of the deceptively bucolic life beneath the dome in this coming of age metaphysical science fiction adventure.
wHEW, I guess I've just witnessed both ends of a delicate spectrum. Mortlock's synopsis was itty-bitty, but this was an overflowing bucket of info-dumping…
And even after all that, I'm still not interested in reading it anymore…
VERDICT: LET GO
6. Saving Montgomery Sole, Mariko Tamaki
In sight not see
black light not be
This is the curious instruction that comes with the Eye of Know, the possibly powerful crystal amulet that Montgomery Sole buys online for $5.99. It's also the next topic of discussion at Mystery Club (members: Monty and her two best friends, Thomas and Naoki), dedicated to the exploration of the strange and unexplained.
When Monty wears the Eye of Know, strange things happen, all targeted at people she despises. Maybe it will help Monty take down her newest enemy, a preacher who has come to save her town from so-called sinners—sinners like Monty's moms. Or will its mysterious powers mean the end of the friendships Monty cherishes most?
Ooh! Spooky crystals, misfit friend groups, and LGBT themes? Count me in!
VERDICT: KEEP
7. Roar (Stormheart, #1), Cora Carmack
In a land ruled and shaped by violent magical storms, power lies with those who control them.
Aurora Pavan comes from one of the oldest Stormling families in existence. Long ago, the ungifted pledged fealty and service to her family in exchange for safe haven, and a kingdom was carved out from the wildlands and sustained by magic capable of repelling the world's deadliest foes. As the sole heir of Pavan, Aurora's been groomed to be the perfect queen. She's intelligent and brave and honorable. But she's yet to show any trace of the magic she'll need to protect her people.
To keep her secret and save her crown, Aurora's mother arranges for her to marry a dark and brooding Stormling prince from another kingdom. At first, the prince seems like the perfect solution to all her problems. He'll guarantee her spot as the next queen and be the champion her people need to remain safe. But the more secrets Aurora uncovers about him, the more a future with him frightens her. When she dons a disguise and sneaks out of the palace one night to spy on him, she stumbles upon a black market dealing in the very thing she lacks—storm magic. And the people selling it? They're not Stormlings. They're storm hunters.
Legend says that her ancestors first gained their magic by facing a storm and stealing part of its essence. And when a handsome young storm hunter reveals he was born without magic, but possesses it now, Aurora realizes there's a third option for her future besides ruin or marriage.
She might not have magic now, but she can steal it if she's brave enough.
Challenge a tempest. Survive it. And you become its master.
A fantasy with a female lead who can control the weather? I'M IN. SIGN ME UP.
VERDICT: KEEP
8. Does My Head Look Big in This?, Randa Abdel-Fattah
When sixteen-year-old Amal decides to wear the hijab full-time, her entire world changes, all because of a piece of cloth…
Sixteen-year-old Amal makes the decision to start wearing the hijab full-time and everyone has a reaction. Her parents, her teachers, her friends, people on the street. But she stands by her decision to embrace her faith and all that it is, even if it does make her a little different from everyone else.
Can she handle the taunts of "towel head," the prejudice of her classmates, and still attract the cutest boy in school? Brilliantly funny and poignant, Randa Abdel-Fattah's debut novel will strike a chord in all teenage readers, no matter what their beliefs.
In literature, especially YA, it's great to have diverse fiction, but it doesn't always have to be so serious. Having unique experiences shouldn't always be looked upon an angsty light (though sometimes it needs to be); let's have some cuter stuff in there, too! Does My Head Look Big in This? seems a bit on the light side, and I'm 100% for it.
VERDICT: KEEP
9. Lost (The Caelian Cycle, #1), Donnielle Tyner
In the final days of WWI, a meteor crashed into Earth, releasing a mist that forever changed the DNA of all exposed.  One hundred years later, humanity is divided between Norms, and Caelians, whose mutated DNA awakened dormant Talents. Hated by many Norms who are jealous of their powerful Talents, Caelians strive to find safety in an often-hostile world.
This is Sadie's world. Orphaned at birth, Sadie is the only Caelian at St. Vincent's without a Talent.  Her already lonely life at the orphanage is shattered when her boyfriend is murdered- the victim of an anti-Caelian hate crime. Struggling to find her place in the world, Sadie meets Kian, a fellow Caelian whose very presence makes her feel strangely alive.
As Sadie begins to uncover the secrets of her past, her rare latent Talent is exposed and she finds herself on the run with Kian and her friends, hunted by a dangerous egomaniac determined to use her power to establish Caelian dominance. Sadie faces a choice: hide and stay lost, or accept her new reality and fight.
Seems like a somewhat intriguing metaphor for the prejudice against minorities, but beyond that, it seems like it's gonna be riddled with cliches.
VERDICT: LET GO
10. Out of the Dark (Five, #1), Holli Anderson
Five teenagers who've recently discovered they have magical powers and are living in the Seattle underground feel it's their responsibility to protect unsuspecting humans from otherworldly foes. Things are going well until Johnathan, their unofficial leader and the boy sixteen year old Paige is in love with, is bitten by a changeling – the venomous saliva causing him to metamorphose into a ravening beast with each full moon. Paige vows that, no matter the cost, she will find a way to cure Johnathan of the evil that has embedded itself in his soul.
Johnathan's monthly transformation and daily personality roller coaster isn't the only problem they have to deal with. The Five are also gearing up to face their toughest and most dangerous enemy yet—a powerful and ruthless Warlock who will go to any means, including high school, to build his Dark Army.
Oof…
The more I look at the blurb, the angrier I get…starting with: WHO SPELLS JONATHAN LIKE THAT? Ah, yes, he is clearly Not Like the Others…
And I know I shouldn't judge a book by its cover, but man…there is no…diversity…whatsoever…and there's an alternate edition where there's just two of them kissing in the middle of the wasteland while the other three just stand there awkwardly.
Nope.
VERDICT: LET GO
RESULTS: 
Books kept: 5
Books let go: 5
Now I have permission to use this gif…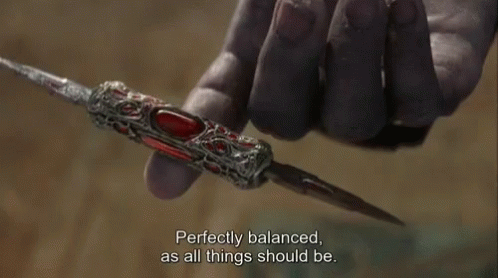 More successful than my first trip down the TBR hole, I'd say! Weeded out a few books, and discovered a few that I'd forgotten about entirely. [pats self on the back]
That just about wraps up this post! Since I already posted a song on this week's Goodreads Monday, I won't put another one here today. Have a nice day, and stay tuned for more content later in the week!