Happy Monday, bibliophiles!
Goodreads Monday is a weekly meme created by Lauren's Page Turners. All you have to do to participate is pick a book from your Goodreads TBR, and explain why you want to read it.
Continuing the theme of paranormal and horror novels for this lovely spooky season, here's one that I've been meaning to read for a good year and a half. It seems to have gotten quite a lot of hype last year, and it looks fascinating! I don't see many books that deal with witch doctors, and Kingdom of Souls looks amazing!
Let's begin, shall we?
GOODREADS MONDAY (10/12/20)–KINGDOM OF SOULS by Rena Barron
Magic has a price—if you're willing to pay.

Born into a family of powerful witchdoctors, Arrah yearns for magic of her own. But each year she fails to call forth her ancestral powers, while her ambitious mother watches with growing disapproval.

There's only one thing Arrah hasn't tried, a deadly last resort: trading years of her own life for scraps of magic. Until the Kingdom's children begin to disappear, and Arrah is desperate to find the culprit.

She uncovers something worse. The long-imprisoned Demon King is stirring. And if he rises, his hunger for souls will bring the world to its knees… unless Arrah pays the price for the magic to stop him.
So why do I want to read this?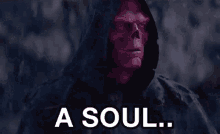 Okay, first off, can we talk about the cover? No, coverS–plural–THEY ALL LOOK GORGEOUS. And the typeface on this cover…I JUST…AAAAAAAAAAAAAAAAAAAH
[ahem] anyway…
Now, for the actual plot…I mean, COME ON, what's not to love? Witch doctors, demons, POC rep, and impending paranormal doom? Of COURSE you have my attention! I also like the idea of a reverse Chosen One, if that makes any sense; instead of showing [ominous thunderclaps] Great Power™️ at a young age and being destined from birth to save the world and all that, we have a more relatable character who struggles to make her magic surface. I really wish we had more books like this–not only is it a bit more relatable (for me, at least), but it also makes for some great character development, if handled in the right way.
In short–I'm so glad I dug this up from my TBR. Excuse me while I see if it's available at the library…
Today's song:
That's it for this week's Goodreads Monday! Have a wonderful rest of your day, and take care of yourselves!