Happy Tuesday, bibliophiles!
I think…I think I'm one of the few people that didn't pick this up after The Inheritance Cycle? My brother loved them, but I never got around to reading them. Hence why I bought this book in the first place–as a birthday present for him. It ended up arriving a good month before his birthday, so I figured I'd read it before I wrapped it up for him. (I was intrigued, anyway–Prometheus vibes, anyone?) The first half was painful to read at points, but it picked up at the halfway mark by a long shot.
Enjoy this week's review!
To Sleep in a Sea of Stars–Christopher Paolini
Kira Navárez, a budding xenobiologist, has just uncovered an artifact that could determine the fate of the galaxy. When the coating of dust surrounding it grows a mind of its own, she knows that something is awry. What she didn't anticipate was to be thrown into the beginnings of interstellar war, and approaching first contact with a potentially hostile species. Can she face the gravity of her consequences alone, or will she succumb to the war inside and outside of her?
Let's just start off with something I'd like to discuss: weaving pop culture references into literature. I'm 100% for it, most of the time–I love finding those hidden Easter eggs and discovering that the author may have a like mind. But there's a certain art to slipping them in–drawing them from a variety of sources, spreading them out, making them subtle; placing them in a way that works for the story, but making them just noticeable enough to pop out in a way that makes the reader go "oh hey, That Thing!" without it being wholly distracting. I've read a variety of novels where this works, and lots that haven't.
Remember how I said that I was initially drawn to reading this from the likeness to Prometheus?
Well…
Can we talk about the first half of the book? For lack of better words, and I hate to say this…it feels like Alien/Aliens fanfic. And it's almost…self-aware of the fact? There's no shortage of similar plot lines, and even the references scattered throughout only emphasize the fact. In the first 200-300 pages alone, we have:
Kira's homeworld, Weyland
A ship AI called Bishop
Several references to a minor character (I think?) named Geiger
Kira using Ellen as a fake name (as in Ellen Ripley)
(I may have missed a few, but these are the ones that most prominently stood out for me.)
Paolini's clearly drawn quite a lot of inspiration from the mythos of Ridley Scott and James Cameron–and I don't blame him–but it really isn't subtle. At all. There's several little threads that felt veeeeeeeery similar to said films…
…And then the second half came along!
For me, the second half saved the novel, really. Whether or not that was influenced by the quote from David Bowie's "Blackstar" at the beginning of Part 3 is up for debate. (Hey, I'm a woman of simple tastes.)
From there, Paolini's originality and fast-paced plot truly shone through, making for a tense and riveting sci-fi.
My favorite aspect of the novel was absolutely the Jellies/Wrannui (wait, did I spell that right?). Their design, all of the little intricacies of their culture and society were so well thought out, and I had such a blast getting to know all of the ins and outs of them. I liked Itari a lot, even though they had a fairly small role.
As far as the characters go, I didn't get super attached to any of them, but they all had at least a decent amount of personality and development. There's a pretty diverse cast as well, so kudos to Paolini for that as well. The romance between Kira and Falconi definitely felt like an afterthought and didn't add anything to the story, but all of the other interactions between the characters were alright. But on that subject…is it weird that my favorite character was a ship AI? I LOVED Gregorovich–he was the most fascinating out of all of them for me, and I loved the psychological aspect that Paolini explored with his character. Reminds me a bit of a Kaufman/Kristoff type of AI–a slightly more unstable Magellan, or a far more calmed down and sane AIDAN? You decide!
This is my first exposure to Paolini's writing, and it was…hit or miss for me? It tended to be quite choppy and terse, which was both a blessing and a curse. (Whoops, did I just rhyme? Would ya look at that…) Sometimes it had the effect of making a scene appropriately tense, but it occasionally erased some of the emotion in the character interactions. The dialogue had a similar quality to it–not quite authentic, but not so bad that it made the characters feel/sound cardboard.
A lot of the reviews I've skimmed through have complained about some of how drawn out the scientific aspects of the novel were, but they didn't bother me at all; in fact, they had the opposite effect on me. The research made the world feel fully fleshed out, and while it did have moments of sounding jargon-y, it didn't take away from my enjoyment. Apparently Paolini spent years researching the science behind some of this novel's aspects, and it's clearly evident in every word. (And yes, it's a really long novel, but I think that the battle scenes went on longer…maybe parts of those should have been cut out as opposed to all of the aforementioned content.)
All in all, a well-thought-out sci-fi that suffered from too much borrowing in the first half, but rocketed to a tense and gripping second half. 3.25 stars.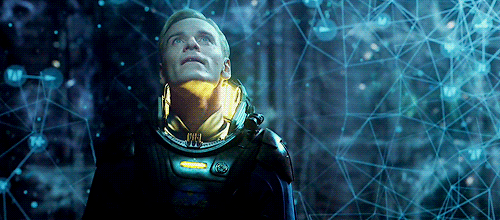 To Sleep in a Sea of Stars is confirmed to be a standalone, but will be the first in Paolini's future Fractalverse. He is also the author of the Inheritance Cycle, consisting of Eragon (book 1), Eldest (book 2), Brisingr (book 3), and Inheritance (book 4).
Today's song:
That's it for this week's Book Review Tuesday! Have a wonderful rest of your day, and take care of yourselves!