Happy Tuesday, bibliophiles!
I got to take a trip to my favorite bookstore last week, and this was one of the books that I picked up. I'd been meaning to read it for years after loving M.K. England's debut, The Disasters, and I finally got to buy it and reading! And despite the average ratings, England's second novel is a genre-bending success!
Enjoy this week's review!
Kyrkata is a place where futuristic technology and magic – known as maz – live in harmony, but after a magical plague wracks the population, the maz supply is depleted. Corporations now hold maz with a tight fist, racking up the prices while the people who need it most turn to crime in order to get it.
Enter Diz, Remi, Jaesin, and Ania. For two years, they've run an illegal maz-siphoning operation. But with college on the horizon, their next heist has to be their last. When their "last job ever" results in a deadly new strain of maz, the four teens must stop a dangerous secret from coming to the surface – and get to the bottom of a corporate conspiracy that may mean the end of their world.
TW/CW: descriptions of illness, loss of loved ones (off-page), violence, near-death situations
Ok. Hear me out.
So if all of the strains of maz have the suffix -az at the end of them (ex. firaz, magnaz), would that mean that Gorillaz would be a valid name for a strain of maz? Guess they'd have to call it maz-19-2000 instead of maz-15…
…okay, I'll shut up now. I'm just making myself giggle at this point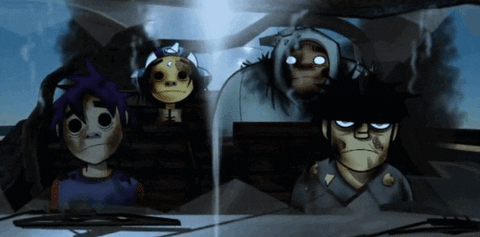 [ahem] anyways
It's really such a shame that this book isn't getting the recognition it deserves. This is what a genre-bending novel should be – it's a seamless blend of sci-fi and fantasy, with enough worldbuilding to make both of them work! And Spellhacker has everything – heists, found family vibes, weird creatures, exploding magic, and casual queerness!
What stood out most for me was the tender found-family dynamic in this novel. All four of the main characters – especially Diz, our protagonist – are delightfully real and as messy as they come, but they just felt so genuine. They all had their lovely little quirks, and they all bounced so sweetly off of each other. The love between them (both platonic and romantic, I might say) brimmed off the page, and it made my heart so happy. Through thick and thin, they were all there for each other. Spellhacker reminded me of why the found family trope is easily my favorite trope!
And if there's one thing better than found family, it's a casually queer and diverse found family! Diz is queer, Remi (her love interest) is nonbinary, and there's several wlw and mlm couples! (Or, to quote M.K. England themself, "elderly science husbands.") There's also a lot of POC-coded characters present, and the diversity truly shines in this novel.
And beyond that, Spellhacker is SO. MUCH. FUN. If any of you here are fans of Six of Crows or The Gilded Wolves, YOU'RE GONNA EAT THIS BOOK UP. It's fast-paced, high-stakes, and full of disguises, hacking, chase-scenes, and breakneck action. From the moment the crew botched their last heist, the novel takes off, not letting go until the final page. But even with all that, England still allowed the crew moments to be tender, allowing for a lot of sweet scenes and character interactions. It's the perfect balance of action and softness.
I have…mixed feelings about the worldbuilding, though. For the most part, I thought it was great; there was clearly a lot of care put into the types of maz and how society controlled them, and the various underground operations to siphon it. Kyrkata's implied to be a world completely different from ours, but there were references to things that were very Earth-specific (I can't remember them off the top of my head), and several of the characters had very Earth-sounding last names, which threw me off a little. But overall, the things I found were fairly nit-picky, so the worldbuilding was solid overall.
There was also something unexpected hidden in Spellhacker that I loved – England wove the usage of the maz into a metaphor for climate change, and the relationship that corporations have with the environment. Without spoiling anything, there's themes of greed and destroying the environment in the name of making money, and I love how Diz and the others combatted that. We all love seeing corporations getting their comeuppance, don't we?
All in all, a fast-paced novel that seamlessly blends sci-fi and fantasy to make an action-packed bundle of exploding fun. 4.5 stars!
Spellhacker is a standalone, and M.K. England's second novel. They are also the author of The Disasters and a forthcoming middle grade novel called Ultimate Gaming Showdown, scheduled for release in 2022.
Today's song:
That's it for this week's Book Review Tuesday! Have a wonderful rest of your day, and take care of yourselves!