I don't know why, but writing this feels so surreal…I've had the idea to write this one since last year, but I've all but put it off until now. So here you go, fellow bibliophiles…
No movie adaptation can capture the true essence of a character, not really in full. Sometimes, they're so wildly different–whether it be in looks or personality–that your perception of them is all but tainted when you re-read the source material. But sometimes, these differences make for an interesting examination of the character themself–and they might even work better for the plot set in the film adaptation.
I know I've mentioned Johann here a fair amount of times on this blog, but for those of you who aren't super familiar, here's the rundown of his character:
Johann's from the Hellboy and B.P.R.D. universe. After a supernatural accident rendered his physical body all but dead, his incorporeal body was kept in a containment suit to that he may live and move about again. A longtime member of the B.P.R.D. (after Hellboy quits), he specializes in communicating with those who have passed.
He's been in the B.P.R.D. comics for quite a while (since about 2001), and he appeared on screen for the first (and so far the only) time in Hellboy II: The Golden Army, voiced by Seth MacFarlane. I saw HBII before I started reading the comics, but once I started reading them, I realized that there is a major discrepancy in terms of Johann's personality between the comics and the film. But this is one of the rare instances where it isn't all that bad.
Nothing quite exemplifies the purest form of these differences than their separate entrances in the comics and the film.
In the comics, Johann first appears alongside the rest of the team in the first volume of the B.P.R.D. comics, Hollow Earth and Other Stories. For most of the first scene where we see him, we only see him from the back as Kate shows him around the B.P.R.D. headquarters. He's clothed in a heavy trenchcoat and a large hat, and it isn't until she leaves him to the tutelage of Dr. Manning that we see him take the hat and trenchcoat off, revealing his containment suit–and the fact that he'd taped sunglasses to his helmet to further disguise himself. (sneak 100)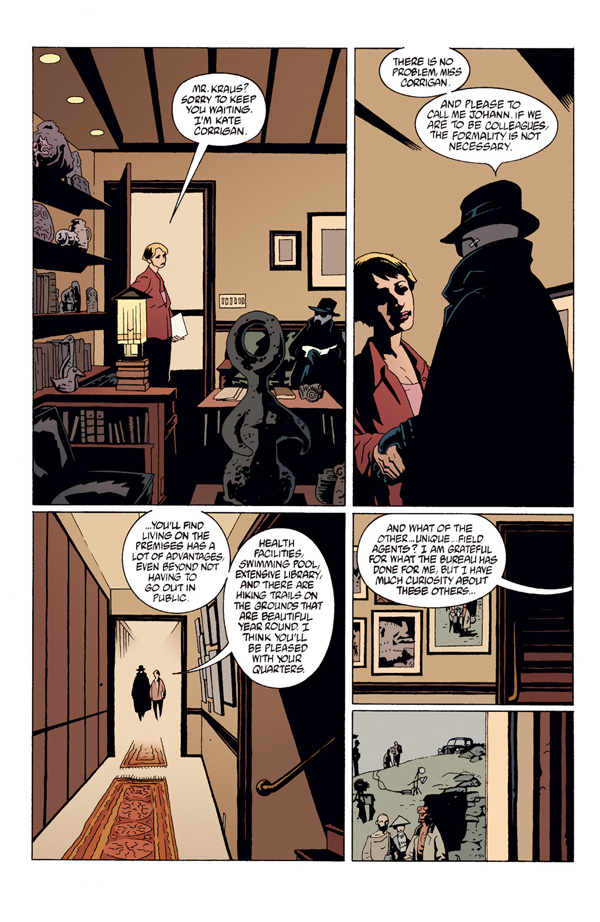 In the film, there's a lot of hubbub that surrounds Johann's arrival. He's been assigned to this division of the B.P.R.D. to keep Hellboy in check. All of the main cast is gathered out in the lobby as Dr. Manning reads off his file. Johann eventually arrives in the elevator, flanked by a bevy of B.P.R.D staff. Once he steps out of the elevator, in all his steampunk-suited glory, he proceeds to CLICK HIS HEELS, TAKE A BOW, and THEN introduce himself. He's even got his own little Danny Elfman theme in the background as this all goes down. What a guy.
So, you can probably already see the major differences.
In the comics, Johann is a far more subdued character. For most of the earlier B.P.R.D. run, he most often defers to the wisdom of the other agents. He's still confident in his skills, but he knows that he's the new guy, and that he'd best leave the work to more experienced agents like Abe, Liz, and Kate. He asks a bit too many personal questions, he stumbles quite a bit, but there's no question that when Johann gets on the job, he will get it done with a unique, psychic prowess.
In Hellboy II, however, we see a version of Johann who has already built up a sort of reputation. After being enlisted to Hellboy and his team, he immediately assumes command of them, inserting himself as their unofficial leader in all their further missions. He's a bit of a martinet, in a way, but mostly when it comes to Hellboy, still resentful towards Manning for assigning Johann to watch over him. They're the antitheses of each other, really; Hellboy prefers to play by his own rules, while Johann is, as Hellboy says, "Mr. 'By-The-Book'."
But for once, I don't really mind the change. Not only are Johann's interactions with the other characters (Hellboy especially) sometimes hysterical, it works seamlessly with the plot. Johann is almost a vehicle for Hellboy's character development, someone to challenge him like Dr. Manning never could. His influence makes Hellboy begin to realize that his actions have consequences (wHEn wIlL you lEARN). Liz also begins to question Johann's actions, but comes to realize that he's had his fair share of hardships in the past as well. (In the case of the movie, Johann lost his wife in the supernatural accident that caused his predicament with the containment suit.) It's a different interpretation of the character, to be sure, but leave it to Guillermo del Toro to pull it off flawlessly. Can I get a WHOOP WHOOP?
Despite these differences, though, Hellboy II managed to stay true to the character in most other respects–he's incredibly intelligent, unafraid to speak his mind, and can even be quite philosophical at times. Plus, there's all the possible shenanigans that can go down when Johann's ghostly form can slip out of the containment suit…
Strangely enough, though, Johann's Hellboy II personality does begin to show up in the Hell on Earth run of B.P.R.D., once he's gained more experience; the Johann that isn't always understanding towards his teammates, and the Johann who becomes something of a disciplinarian, at his worst, mostly with the likes of Fenix. He's still reserved at heart, but often hides in the face of the other agents.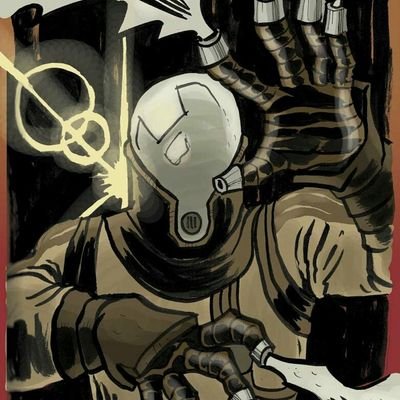 But the only other key difference I see between the comics and Hellboy II is simple: Johann and Hellboy never even meet each other in the comics. By the time he comes to the B.P.R.D., Hellboy's packed his bags. Which begs the question, really: how would they get along in the comics in some alternate timeline? I wonder about it quite a lot, but I still don't have an answer.
Johann's always been one of my favorite characters in the Mignolaverse, up there with Abe Sapien and Liz, for me. There's so many possibilities with him, and he's a continually complex character, not to mention the design of his containment suits. Whatever your takeaway from the comics and the film may be, there's no doubt that he's an absolutely fascinating character.
Today's song:
Hope you enjoyed this post, everyone! Have a wonderful rest of your day, and take care of yourselves!