Happy Thursday, bibliophiles!
This week is the final week that I'll be doing these recommendations, but no matter the month, I'll always be recommending LGBTQ+ books, don't you worry. 🏳️‍🌈
Historical fiction isn't a genre that I usually delve into, but in the genre, I've found quite a few gems. If done well, historical fiction can be a wonderful insight and perspective into another time period, and books that can immerse us in the past more than any textbook ever can. With LGBTQ+ historical fiction in particular, it can give us insight on events that most textbooks don't usually cover (looking at you, APUSH textbook…I found a whopping ONE mention of the LGBTQ+ community. ONE. IN THE ENTIRE TEXTBOOK. Granted, we had to stop at the 1950's because of the COVID-19 situation, but still…).
So let's begin, shall we?
PRIDE MONTH RECS, WEEK 4: HISTORICAL FICTION
LGBTQ+ REPRESENTATION: Two out of the three protagonists are gay, mlm relationship, several gay side characters
TIME PERIOD: 1989-1990 (AIDS Crisis)
MY RATING: ⭐️⭐️⭐️⭐️⭐️
I know I blab about this one quite a lot, but quite frankly, this is easily the best historical fiction novel I've ever read. Period. A major tear-jerker, to be sure, but worth every bout of sobbing, 100%.
2. Everything Grows, Aimee Herman
LGBTQ+ REPRESENTATION: Lesbian protagonist, bisexual love interest, trans woman side character, gay side character
TIME PERIOD: 1993
MY RATING: ⭐️⭐️⭐️⭐️.5
A grossly underrated, poignant, and relatable novel about realizing your true self and discovering your identity.
3. Loki: Where Mischief Lies, Mackenzi Lee
LGBTQ+ REPRESENTATION: Pansexual/Genderfluid protagonist, gay side character, queer relationship
SET IN: 19th Century (London, specifically)
MY RATING: ⭐️⭐️⭐️⭐️
I know what you're probably thinking. "Why'd you put this in the historical fiction category?" And aside from the fact that I don't read the genre as much, a good portion of the novel, though it leans more towards the fantasy/mythology side, is set in London in the 1800's. Plus, Loki. Can't go wrong with Loki, now can we?
LGBTQ+ REPRESENTATION: Both protagonists are lesbians, wlw relationship
SET IN: Alternates between 1955 and the present day (2017)
MY RATING: ⭐️⭐️⭐️⭐️
A touching tale that alternates between a closeted lesbian (and budding author) in the age of the Lavender Scare and a curious, out-and-proud lesbian in the 2010's.
5. Ziggy, Stardust and Me, James Brandon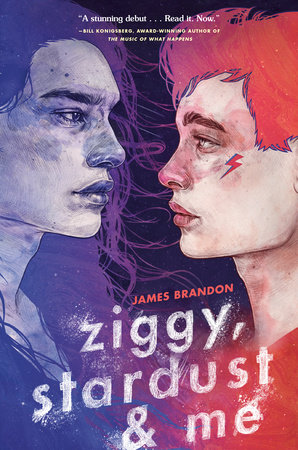 LGBTQ+ REPRESENTATION: Both protagonists are gay, mlm relationship
SET IN: 1973 (TW: Conversion therapy)
MY RATING: ⭐️⭐️⭐️⭐️
I talk a lot about this one as well, but honestly, what more could you want from an LGBTQ+ coming of age story centering around a boy who idolizes David Bowie? IT'S DAVID BOWIE!
As always, Queer Books for Teens is a wonderful resource if you'd like to find more LGBTQ+ recommendations and books to read.
TELL ME WHAT YOU THINK! HAVE YOU READ ANY OF THESE NOVELS? WHAT ARE YOUR FAVORITE LGBTQ+ HISTORICAL FICTION NOVELS?
Today's song:
This one's been coming on my shuffle in the car lately. Never fails to make me smile…
That's it for this week's pride month recommendations! Have a wonderful rest of your day, and take care of yourselves!