Happy Monday, bibliophiles!
Goodreads Monday is a weekly meme created by Lauren's Page Turners. All you have to do to participate is pick a book from your Goodreads TBR, and explain why you want to read it.
While scouring the middle reaches of my TBR, this book stood out to me, especially from the synopsis; aside from the shenanigans that ensue from the switching of a creative writing teacher ([mournful sigh], oh, how I wish my school had more English options…[single tear slides down cheek]), the main character seems…a bit like me. Or, how I want to be, at least.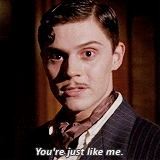 Ooo…
GOODREADS MONDAY (2/10/20)-FINAL DRAFT by Riley Redgate
The only sort of risk 18-year-old Laila Piedra enjoys is the peril she writes for the characters in her stories: epic sci-fi worlds full of quests, forbidden love, and robots. Her creative writing teacher has always told her she has a special talent. But three months before her graduation, he's suddenly replaced—by Nadiya Nazarenko, a Pulitzer Prize–winning novelist who is sadistically critical and perpetually unimpressed.
At first, Nazarenko's eccentric assignments seem absurd. But before long, Laila grows obsessed with gaining the woman's approval. Soon Laila is pushing herself far from her comfort zone, discovering the psychedelic highs and perilous lows of nightlife, temporary flings, and instability. Dr. Nazarenko has led Laila to believe that she must choose between perfection and sanity—but rejecting her all-powerful mentor may be the only way for Laila to thrive.
So why do I want to read this? 
As a young, aspiring writer myself, I'm intrigued to see how–or if–I relate to Laila. Beyond that, I'm interested to see how the near-fall-from-grace plotline is handled, tightroping the line between approval from others and mental stability.
Oh, hey, and I just noticed…
…IT'S SHELVED AS LGBTQ+ ON GOODREADS!
SUCCESS!
Today's song:
hadakjsdkajshkdjashdkjaskjhj such a good cover eeee
That just about wraps up this week's Goodreads Monday! Have a wonderful rest of your day, and take care of yourselves!