Happy Tuesday, bibliophiles!
I don't think I've anticipated a book as much as I've anticipated Aurora Burning (though Soul of Stars is a close contender). After falling in love with book 1, I jumped at the chance to preorder it, and as the date came closer (it's officially been a week since its release), I counted down the days. My day got SO much better once I got it in the mail, and my day was filled with so much joy thereafter. I read it twice, and I must say, this is a truly worthy sequel, filled to the brim with plot twists and heart-wrenching writing.
WARNING: THIS REVIEW CONTAINS SPOILERS FOR BOOK 1, AURORA RISING. If you haven't read book 1, then I suggest you don't read this review yet. 
For my review of Aurora Rising, click here! 
Enjoy this week's review!
Aurora Burning (Aurora Cycle, #2)
Squad 312 is in more trouble than they've ever been in.
After the tumultuous exploration of Octavia III, the colony that Aurora was set to live in, Tyler, Scarlett, Finian, Kal, Zila, and Auri are back on the run. The TDF now blames them for the destruction of Sagan station, and with targets on their backs, the stakes are higher than ever. Especially considering that the Ra'haam–an interstellar entity bent on consuming the galaxy and all its denizens–is after them, infiltrating the Global Intelligence Agency, and bent on assimilating Auri. Now, Squad 312 must unlock the mystery of the Eshvaren–the beings that defeated the Ra'haam millions of years before–in order to complete Auri's destiny as the force that will purge the Ra'haam from the face fo the galaxy. With targets on their backs and bounties on their heads–and not to mention, Kal's sister after them–will Squad 312 defy all odds once more?
WOW. WHAT. A. BOOK.
Amie Kaufman and Jay Kristoff have absolutely done it again, pulling out all the stops of a sequel truly worthy of the near-perfection of its predecessor. There was nothing I enjoyed more than being back with Squad 312–especially now that we've got some necessary backstory on all of them.
Namely, Zila and Kal. We learned almost nothing about Zila in book 1, other than something vaguely hinted in her (very short) POVs; now that we have some insight on her past life…whew, somebody give her all the hugs the universe has to offer…
But beyond that, we also saw her grow such a great deal, and watching it made my heart so happy. Kal gets a similar treatment–we get an insight on his past (namely, his family), and we also get to see his relationship with Auri grow. I already adored both of them in book 1 (I mean, hey, they're my favorite characters), but seeing them blossom together was one of my favorite aspects of this book.
Aurora Burning was just as action-packed as book 1, if not even more. I enjoyed every minute of it–everything from the escape from Emerald City at the very beginning to the chaos that ensued towards the end of the novel. I was on the edge of my seat for every page, and grinning from ear to ear through it all. (Well, almost all of it. More on that a bit later.)
One of my favorite scenes/sequences, by far, was Auri's training by the Eshvaren within the Echo. It was such a beautifully written and archetypal few chapters–not only a chance for Auri to realize herself and her mindset, but a chance for her relationship with Kal to grow as well. The imagery was gorgeous, and I'll admit that the last bit got me choked up. Mostly because it was so reminiscent of The Empire Strikes Back, with Luke undergoing training to be a Jedi knight in the swamps of Dagobah. The Hero's Journey parallels between Luke and Auri made me swell with joy, for lack of better words.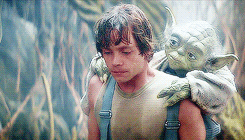 And all of it built up to an absolute WHOPPER of an ending. If you love this series as much as I do, PLEASE prepare yourself emotionally, because I guarantee that you won't be ready for what's coming. I know you've all heard everybody saying something on these lines, but I mean it when I say that Kaufman and Kristoff DESTROY EVERYTHING THAT YOU HOLD DEAR. AGAIN. And now I have to wait a whole year to find out what happens…
And on a sidenote, REPRESENTATION! Finian is now confirmed to be bisexual, and Zila makes several comments about liking girls, though her label has not been confirmed. A+!
All in all, Aurora Burning proves once more that Kaufman and Kristoff are nothing short of a force to be reckoned with. A true stunner of a sequel, and one that I certainly won't forget anytime soon. 5, ENORMOUS STARS! Or more, if that's possible…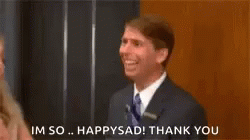 Aurora Burning is the second book in the Aurora Cycle, preceded by Aurora Rising. Book 3 is confirmed to be happening/in the works, but as of now, it's untitled, and does not have a cover or a release date. [sad harmonica]
Today's song:
Gah, I love this song…
Reminds me a little bit of Kal, to be honest. Not completely, but some of the lyrics and the general feel of the song have the same vibes as him.
That's it for this week's Book Review Tuesday! Have a wonderful rest of your day, and take care of yourselves!