Happy Tuesday, bibliophiles!
Ash had been on my TBR for quite a while, and I'd read a few of Malinda Lo's stories in an anthology or two, so I figured that I'd give her solo works a try. I'm glad to say that I wasn't disappointed in the least–this retelling reads like a true fairytale, and is a wonderfully subversive take on the classic tale of Cinderella. And, it's a perfect read for Pride month! 🏳️‍🌈
Enjoy this week's review!
After the death of her parents, Ash's life changes forever. Gone is the loving family she once knew, replaced by her cruel, domineering stepmother and her two daughters. Her only solace is the book of fairy tales that her mother read to her as a child. A walk in the woods at night, however, makes her realize that her fairy tales are more than tales for children.
Now under a pact with a formidable fairy, she finds herself falling for Kaisa, the king's royal huntress. As the pair fall in love, Ash must choose between her newfound love and the pact that binds her to the wicked forest.
We all know it–Cinderella has been retold so many times that it has almost become stale. But reading this, I realized that Ash may have been one of the first of its kind–a YA retelling, groundbreaking not only for the higher stakes and subversion of the tale, but with the sapphic aspect of the romance. And without a doubt, Ash is a retelling to be reckoned with.
Lo's writing reads like a well-loved fairytale, filled with lush prose and the air of a seasoned storyteller. Every description, from the woods outside of Quinn House to Ash's enchanted gown, is lusciously written. It almost reminded me of the classic style of narration used in films like Pan's Labyrinth, and other fairytale media.
Aside from the borderline, almost annoyingly edgy quality of the blurb on the cover and the Goodreads synopsis, Ash is a wonderful example of a fairytale retold in a darker way, staying true to the original tale while having fresh, dark, and lyrical elements that make it stand out from the volley of other retellings on the YA market today.
And can we talk about Ash and Kaisa? I. LOVED. THEM. They were both such relatable characters with poignant struggles, and they had chemistry to die for. SAPPHIC POWER COUPLE SUPREME. BEAUTIFUL.
All in all, a groundbreaking retelling, and one that will surely stand the test of time. 4 stars!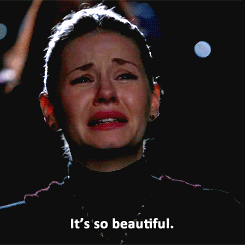 Ash is a standalone, but there is a prequel set in the same universe, Huntress, which is set many years before the events of this novel.
Today's song:
That's it for this week's Book Review Tuesday! Have a wonderful rest of your day, and take care of yourselves!