Happy Sunday, bibliophiles! I hope this week has treated you well.
I'M OVERJOYED THAT SCHOOL IS NEARLY OVER FOR ME. Normally I'm excited, but this year in particular has been astronomically awful, so I'll be very glad to see both junior year and online learning go out the window. And the weather's warming up! Nearly summer!!
After AP exams and finals, I tried to get back to writing, with varying degrees of success. I started that second draft of my big sci-fi WIP, but…I feel like I wasn't in the right headspace, it just wasn't coming off with the feeling I wanted it to have, and there was a pretty important plotline that was really convoluted. So I'm planning on scrapping what little I have of that draft and starting over. I think it's for the best. Wish me luck…
Other than that, I read outside (finally warm enough!), got some comics and ice cream, rearranged the books on display at the YA section of my library during my shift (somebody had to dethrone the Sarah J. Maas), and listened to the rain on my window as I fell asleep. Hands down, the best feeling.
Oh, and speaking of rearranging the library displays…I check every week to see if there's any Fargo DVDs in the TV section, and this week I found the first two seasons, so season 1 automatically went up on display…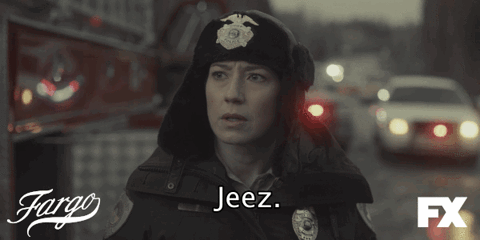 WHAT I READ THIS WEEK:
Scavenge the Stars – Tara Sim (⭐️⭐️)
Mad, Bad & Dangerous to Know – Samira Ahmed (⭐️⭐️⭐️⭐️.25)
Broken Wish (The Mirror, #1) – Julie C. Dao (⭐️⭐️⭐️.5)
Summer Bird Blue – Akemi Dawn Bowman (⭐️⭐️⭐️⭐️)
Magnificent Ms. Marvel, vol. 3: Outlawed – Saladin Ahmed and Minkyu Jung (⭐️⭐️⭐️⭐️)
Velocity Weapon (The Protectorate, #1) – Megan O'Keefe (⭐️⭐️⭐️.25)
POSTS AND SUCH:
SONGS:
CURRENTLY READING/TO READ NEXT WEEK:
We Free the Stars (Sands of Arawiya, #2) – Hafsah Faizal
The Infinity Courts – Akemi Dawn Bowman
Lost in the Never Woods – Aiden Thomas
Sanctuary – Paola Mendoza and Abby Sher
Be Dazzled – Ryan La Sala
Today's song:
That's it for this week in blogging! Have a wonderful rest of your day, and take care of yourselves!