Happy Saturday, bibliophiles!
I haven't done a recommendations post/something other than a book tag or a review in a while, so I figured it would be fun to mix things up a little bit.
Yeah, yeah. I get it. This is a very specific post. But these are the kind of books I love, and I know other people love them too, so I thought I would put this out into the world.
The found family trope is easily one of my favorites in media as a whole; usually, it involves a character, often an outsider, who meets a series of strangers, often outsiders as well, on whatever journey they are on, and these strangers become a family to them. Often, these characters have very different personalities, but their differences are what make them stronger. They come to accept each other no matter what, growing closer than they ever could have imagined. As someone who has been more than a little bit of an outsider over the course of my life, the trope has resonated with me a quite lot; I'm glad now to have found friends that love me for being as weird as I am, and I love them for being weird too. And for those of you who are in the place where I used to be, I promise: someday, you'll find people who love you and celebrate you for who you are.
In my opinion, sci-fi is the most entertaining genre to see the found family trope in action. Sci-fi has a tendency to throw all of the characters into a life-changing adventure, and if the execution is right, their relationships deepen along the way, making for a tight-knit group of what I love to call "chaotic space misfits."
Now, the books I'm putting on this list aren't exclusively space-centric sci-fi. I've included a few books from other sci-fi branches, but all have similar found family themes. It's mostly YA, but I have a few Adult and MG books on the list as well.
So let's dive in, shall we?
THE BOOKISH MUTANT'S FOUND FAMILY SCI-FI RECOMMENDATIONS
Victories Greater Than Death – Charlie Jane Anders
young adult
Fast-paced and full of heart, Victories Greater Than Death is a perfect fit for longtime sci-fi fans and readers that are new to the genre! The relationships in this novel are so sweet, and I'm excited to see how they develop in the sequel!
Aurora Rising – Amie Kaufman & Jay Kristoff
young adult
Two YA sci-fi books with purple covers with beautiful and VERY powerful space girls on them? In one post? It's more likely than you think.
Aurora Rising is, in my opinion, the textbook-perfect example of the found family trope, and both the platonic and romantic relationships within it never fail to make me feel soft and happy inside.
young adult
The Disasters is the perfect book for you if you're a fan of Guardians of the Galaxy-esque characters and banter. This one has action, drama, and misadventures in space aplenty!
Gearbreakers – Zoe Hana Mikuta
young adult
Nothing like taking down giant, overpowered robots to bond a couple of people together…
The bonds between all of the characters in Gearbreakers truly shone, and the balance of soft levity, dystopian grit, and brutality were so well-handled!
young adult
Continuing on the dystopian train, here's an action-packed book from one of of my favorite authors! Amidst all of the horror and desolation in Skyhunter's ravaged world, the relationships between Talin, Red, and the rest of their ragtag gang of Strikers brings hope to a bleak novel. I read it almost a year ago, and it was just the thing that I needed to get through a rough patch in my life.
The Search for WondLa – Tony DiTerlizzi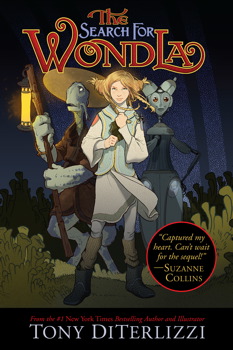 middle grade
Looking back, The Search for WondLa wasn't just my gateway into sci-fi literature—it was probably my gateway to the found family trope as well. This was my favorite series from late elementary school through middle school, and even when I look back through it, I love it just as much as I did when I was younger. Middle school Madeline would be elated to hear that I still highly recommend it; an intricately crafted piece of sci-fi, filled with an immersive world, unique characters, and beautiful illustrations.
Honor Among Thieves – Ann Aguirre & Rachel Caine
young adult
Spaceships are often the perfect vehicle for interstellar bonding (and anything interstellar, really), but have you considered…sentient, intelligent spaceships? What's more fun than having your own spaceship join the found family?
Honor Among Thieves, with its diverse and chaotic cast of characters and intergalactic intrigue, is sure to both capture your heart and keep you on the edge of your seat!
The Long Way to a Small, Angry Planet – Becky Chambers
adult
I said earlier that the found family trope often involves the characters bonding over some life-changing adventure, but it isn't always—and never has to be—the case. It seems to me that Becky Chambers has pioneered the "soft sci-fi" novel, one that's set in a future universe filled with aliens and strange politics, but there are no cosmic, fate-of-the-world wars or over-the-top conflict. It's more slice-of-life, but in space. (Oh, look at me and all my hyphens…) Which I love.
The relationships of the crew of the Wayfarer made my heart so happy, and I bet they'll make you just as happy too!
young adult
The main cast, along with the rest of the crew of the Dossier are the sweetest, messiest found family, whether they're human, robot, or alien. If you love retellings, lost chosen ones, and plenty of banter, Heart of Iron is the book for you!
middle grade
Here's another one for middle school Madeline…
Larklight, from my memory, is imaginative, kooky, and perfect if you're a fan of steampunk. Never a dull moment if there are pirate ships and floating houses in space, right? Plus, all sorts of odd creatures…
young adult
Turning back into dystopian sci-fi, LIFEL1K3 is another fantastic example of a novel that finds the smallest bits of hope in the bleakest (and I mean BLEAKEST) of times. This series HURT me, truth be told, but Jay Kristoff is the master of writing friendships that you want to root for with all your heart.
TELL ME WHAT YOU THINK! What are your favorite books with the found family trope? Have any sci-fi recommendations for me? Tell me in the comments!
Today's song:
That's it for this post! Have a wonderful rest of your day, and take care of yourselves!