Happy Monday, bibliophiles!
Goodreads Monday is a weekly meme created by Lauren's Page Turners. All you have to do to participate is pick a book from your Goodreads TBR, and explain why you want to read it.
My pick for today's Goodreads Monday is a semi-earlier pick; I put it on the list almost a year ago, but it's only about a third of the way through my (massive) TBR. I don't read many mysteries or thrillers, but this one sounds like a lot of fun–with a feminist twist!
Let's begin, shall we?
GOODREADS MONDAY (9/7/20)–THE ATHENA PROTOCOL by Shamim Sarif
Jessie Archer is a member of the Athena Protocol, an elite organization of female spies who enact vigilante justice around the world.
Athena operatives are never supposed to shoot to kill—so when Jessie can't stop herself from pulling the trigger, she gets kicked out of the organization, right before a huge mission to take down a human trafficker in Belgrade.
Jessie needs to right her wrong and prove herself, so she starts her own investigation into the trafficking. But going rogue means she has no one to watch her back as she delves into the horrors she uncovers. Meanwhile, her former teammates have been ordered to bring her down. Jessie must face danger from all sides if she's to complete her mission—and survive.
So why do I want to read this?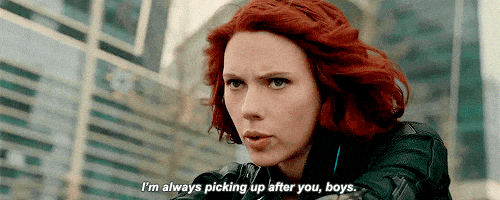 BLACK WIDOW VIBES, I REPEAT, BLACK WIDOW VIBES–
[ahem] besides that, the first comparison that I thought of after re-reading the blurb was The Black Coats—another feminist mystery that deals with morally gray themes and vigilante justice. The Athena Protocol seems more spy-oriented while The Black Coats is more contemporary, but I have a feeling that the former might be just as good.
As a (very) infrequent consumer of mysteries and thrillers in general, I'm always looking for books that put twists on it. I'm excited to see how Sarif deals with some of the morally gray themes that seem to be lurking about the plot. Plus, I'm all for a super-team of female spies putting misogynists and creeps in their places, so of course I'm on board. And having just come out of seeing Tenet (which was amazing, by the way), I could definitely use this twist on the traditional thriller.
And according to Goodreads, there's some LGBTQ+ representation too! Sarif said that Jessie is "a young woman who is LGBT," and some of the reviews have said that she's definitely sapphic, so I'm so excited!
All in all, maybe I need to read more thrillers. But mostly the feminist ones.
Today's song:
That's it for today's Goodreads Monday! Have a wonderful rest of your day, and take care of yourselves!