Happy Tuesday, bibliophiles!
It's been a bit of a chaotic day for me–I couldn't get into one of my zoom meetings for one of my classes, and it's snowing. The latter is deeeeefinitely kind of worrying–here in Colorado, it usually doesn't start to snow until mid to late October, and persists until late May.
IT'S THE SECOND WEEK OF SEPTEMBER. Yep, friendly reminder that climate change isn't just global warming, but unpredictable weather patterns like this. Climate change is still very real, folks.
Anyway, I'll step off that soapbox for a minute…only to get right back onto another one.
Ever since I found out about it in May, Cinderella is Dead was one of my most anticipated releases of this summer. A Black, sapphic protagonist, a multiracial wlw relationship, and a dystopian society based on the tale of Cinderella? I was FASCINATED. And while this novel did deliver in the aforementioned aspects, it was dragged down by the poor execution of nearly everything else.
Prepare for a rant review, folks…
Enjoy this week's review!
Cinderella is Dead–Kalynn Bayron
Everybody knows the tale of Cinderella, the dismissed orphan who was visited by a fairy godmother and lived happily ever after with the dashing Prince Charming. But do you know what happened 200 years later?
In Sophia Grimmins' world, the tale of Cinderella is now the backbone of every tradition in town. Every year, all of the eligible girls must attend the Annual Ball, to be picked and chosen by the men. But for as long as she can remember, Sophia has never wanted a man–she's wanted a woman. She flees the ball with her life, only to find herself in the tomb of Cinderella herself. There, she finds Constance, the last surviving descendant of Cinderella, who seeks to help bring down the patriarchal kingdom. Sophia and Constance join forces, and sparks soon fly between them–but the truths they thought about Cinderella are far from true…
Let me be perfectly honest: it truly pains me to give this book such a low rating. It's such a joy to see #OwnVoices books outside contemporary and historical fiction with POC/LGBTQ+ leads, and we certainly need more of those out in the world. But even though Cinderella is Dead boasted great representation all around, it failed to meet my expectations in almost every other aspect.
I'll start off with the good before the bad: representation! This dystopian fantasy is absolutely an #OwnVoices book, with a Black, lesbian protagonist, a lesbian love interest, and a gay side character who has a semi-prominent role. Throughout the book, there's themes of contradicting patriarchal tradition, abuse, and misogyny, and it's always wonderful to see a sapphic couple kicking sexist butt, so that's always a win. But even then…Sophia wasn't a very distinct character. I struggle to find any traits that would make her much of an individual, other than the desire to smash the patriarchy. (Don't we all, though? Can't go wrong with that.) I liked Constance a little bit better, but their relationship felt very rushed and glossed over. And the themes I just talked about it? They felt very forced, relying more on telling than showing. There wasn't very much subtlety or creativity in the ways that they were tackled, making the commentary…almost not worth it. I appreciate Bayron's attempt to discuss these issues, but there are so many ways that they could have been handled better.
All of the Cinderella mythos had SO MUCH potential, from the punchy title to the concept itself. It was still reasonably spine-chilling in execution, but other than the fact that the tale has been weaved into the world's operating system, the worldbuilding was…wait a minute…[picks up a telescope] wait a minute, where'd it go? A little help here?
…okay, that was probably harsh, but it was RIDDLED with holes.
[spreads out a sheet of paper] Okay, let's see. We've got a country ruled by a monarchy, with some forests around it, presumably. It's hinted that it's a bit more antiquated technology-wise, but we don't get any sense of where society has gone as far as technology, transportation, all of that. There's a little bit of evidence to suggest that magic exists, but the only wielder we know of is the Fairy Godmother. (So is there some sort of ban on magic? Has nobody else been able to find it? Who knows…) The character's names range from ones that were popular in the 19th century to those in the 21st century, but most of them fall into the latter. (ex. Liv, Isla, Sophia) So…wait, what? It's been a good two and a half weeks since I've read Cinderella is Dead, and I STILL have no idea what's going on there. I NEED ANSWERS. PLEASE. THIS IS A MESS.
The worldbuilding is my main criticism, but other than that, my issues are a little more nit-picky. Things like Sophia having very few defining traits (if any) and the telling method of tackling the issues, the villains had very lackluster, overdone motives and no redeemable qualities to speak of. The dialogue also had a tendency to be overly stiff, and nobody had a distinct voice.
Again, I feel so bad for giving this book such a low rating. #OwnVoices books are so pertinent and important in this day and age, but…there are so many better ones that you could be reading than this one. I could chalk this rating up to my high expectations, but other than the representation and concept, Cinderella is Dead was such a mess. Amazing concept, terrible execution. 2.5 stars, but the half star is likely just for seeing a multiracial wlw couple smashing the patriarchy. [sad harmonica noises]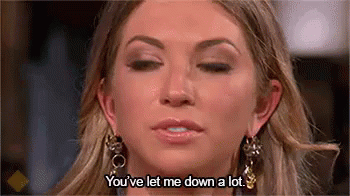 Cinderella is Dead is Kalynn Bayron's YA debut, but she has several other adult and nonfiction works. Cinderella is Dead is likely a standalone, but I've heard a rumor about spin-offs set in the same universe, but I haven't been able to confirm their validity.
Today's song:
That's it for this week's Book Review Tuesday! I promise that the next reviews I write will be more positive. Have a wonderful rest of your day, and take care of yourselves!