Hey there, bibliophiles! Happy Tuesday! I'm so glad I'm off school for a few weeks…
Jeez, try saying the title of this post three times fast…
Now [cracks knuckles]…today's gonna be a special review day, because today, you're getting not one, but two reviews in the same post! And that, if you're wondering, is solely because I read both books in K. Eason's Thorne Chronicles, and I've been itching to get my thoughts out.
I'd all but forgotten that I'd put book 1 on my TBR until the random number generator picked it for a recent Goodreads Monday. Luckily, it was available at the library, so I checked it out and proceeded to gobble it up in between studying for my finals. And man, I'm glad that I checked out both books in the duology–a sarcastic, wittily written space opera that pokes fun of every trope imaginable.
Enjoy this double review!
First things first…
How Rory Thorne Destroyed the Multiverse (The Thorne Chronicles, #1)–K. Eason
Rory Thorne was born into royalty, the first baby girl in the family line in two centuries. When she was a baby, she was blessed by the gifts of thirteen fairies, gifts that would help her grow into a woman well-loved by the court. But the most important of all was given to her by the thirteenth fairy–the gift of seeing behind people's words and discovering their truth intentions.
After her father is assassinated, she's swept off-world, only accompanied by her royal tutors, and is immediately arranged to marry a prince she's never met. Rory isn't happy about it in the least–but the situation grows dire when she discovers that this prince is at the heart of an attempt to usurp her family's throne.
The Goodreads synopsis pegs this one as The Princess Bride meets Princess Leia, and I'm happy to say that it mostly lives up to both comparisons! How Rory Thorne Destroyed the Multiverse is basically the phrase "this princess saves herself" in book form, and it's so much fun from start to finish!
What really stood out for me about Rory Thorne is the writing style. There's an anecdotal, tongue-in-cheek quality about it, peppered with witty little tidbits about the universe. Not only does it poke fun at the tropes of fairytales, fantasy, and space opera, it presents a feminist rebuttal of all of them, particularly in the form of Rory herself. I loved following her across the galaxy, with all of her wit, sass and tenacity. She's a wonderful heroine, and the perfect fit for this story.
And of course we have to talk about all of the supporting characters! I loved Grytt and Messer Rupert, and as Rory's royal tutors and caretakers, they had the funniest chemistry, not only bouncing off of each other well, but presenting a hilarious contrast to the disobedient, willful Rory. Each character was distinct, making for the perfect gang of misfits to traverse the universe with.
The worldbuilding was definitely interesting, too; at worst, some of the politics got a little bit convoluted, but I liked all of the little anecdotes about the different philosophies of the universe. For all of the alien species that were mentioned, though, I wish we'd actually…y'know, seen some of them, but alas, mostly humans.
Overall, though, a sarcastic and feminist tale of resistance and disobedience. 4 stars!
And now, for book 2…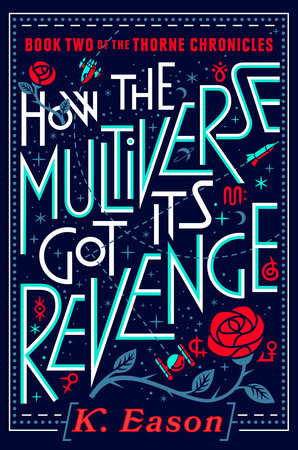 How the Multiverse Got Its Revenge (The Thorne Chronicles, #2)–K. Eason
After upending her royal life and sparking a revolution in the galaxy, Rory Thorne has taken up life as a space pirate, along with her former bodyguards and royal allies. When the crew finds a wrecked spacecraft, they discover something sinister within–an innocuous plant that not only might possess intelligence, but could have been manufactured as a biological weapon. Thrown into the beginnings of an intergalactic war, Rory and her crew must find their way out of harm's way–and wrangle a killer rose, while they're at it.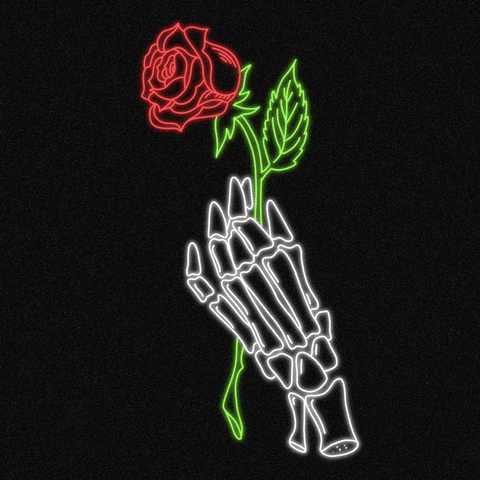 How the Multiverse Got Its Revenge came out in early October of this year, and so far, it's been getting fairly average reviews (the Goodreads rating for this one is currently 3.66, as opposed to book 1's rating of 3.91). And…I just don't understand why, because somehow, Multiverse was even better than book 1!
Okay, first off, SPACE PIRATES. I couldn't think of a more fitting profession for Rory after abandoning her royal ways. I loved the chemistry and banter between her and her crew, and the whole plot line with the sinister rose managed to be both hilarious and tense. And even though they were separated from the rest of the gang, I loved seeing Grytt and Messer Rupert again, especially the latter. (I just…MESSER RUPERT MUST BE PROTECTED AT ALL COSTS, OKAY? 🥺)
Oh, and my whole complaint about not seeing many aliens in book 1? RESOLVED! We've got a whole host of interesting species in Multiverse, and I loved seeing some of them. Admittedly, Eason fell into the trap of the "aliens, but basically humans with slightly differing appearances" trope with one species, but they actually acknowledge that it's unusual in the grand scheme of the galaxy, so at least there's that. Plus, the other two alien species that were focused on made up for it.
The plot for this one was super fast-paced, and with the cast of characters, it meshed perfectly. Multiverse honestly just sucked me in to the point that I put off studying for my (godforsaken) AP Bio final just so I could see what happened. Again, the politics of the world(s) are still a tad convoluted, but it was still well-thought-out, and a whole lot of fun at that.
My only major complaint is the ending. It was just…unsatisfying? I wish we would have had a bit more certainty, and maybe…y'know, having some of the characters reunite? My space children deserved it, c'mon.
All in all, a heartstring-tugging and thrilling sequel that was more than worthy of its predecessor. 4.5 stars!
The Thorne Chronicles is a duology, consisting of How Rory Thorne Destroyed the Multiverse and How the Multiverse Got Its Revenge. K. Eason is also the author of the On the Bones of Gods trilogy, consisting of Enemy (book 1), Outlaw (book 2), and Ally (book 3).
Today's song:
That's it for this week's double Book Review Tuesday! Have a wonderful rest of your day, and take care of yourselves!