Happy Wednesday, bibliophiles!
I found this tag over at The Comfy Reader, and I thought it would be super fun to give it a go! I'm not sure who created it, so please let me know, if you can. 👍
FIND AN AUTHOR NAME OR TITLE WITH A 'Z' IN IT 
Kat and Meg Conquer the World–Anna Priemaza 
Hey, Anna Priemaza!
FIND A CLASSIC
The Illustrated Man–Ray Bradbury
FIND A BOOK WITH A KEY ON IT
BOOM. Key necklace!
FIND SOMETHING ON YOUR BOOKSHELF THAT'S NOT A BOOK
Lots of things…I have host of random trinkets, action figures, mementos, and Pop! Figures, as well as my Universal Studios Harry Potter Wand, on my bookshelves. 🙂
FIND THE OLDEST BOOK ON YOUR SHELF
I think this one takes the prize…published in 1945!
FIND A BOOK WITH A WOMAN ON IT
Aurora Rising–Amie Kaufman and Jay Kristoff
AURI! SPACE ROGUE!
FIND A BOOK THAT HAS AN ANIMAL ON IT
Serafina and the Twisted Staff–Robert Beatty
There's quite a few books that might fit the bill here–I was big into animal stories for a while–but this was the first book that came to mind.
FIND A BOOK WITH A MALE PROTAGONIST
My school library was giving out free copies of books that were in low circulation last year, so I snagged a copy of this one.
FIND A BOOK WITH ONLY WORDS ON THE COVER
FIND A BOOK WITH ILLUSTRATIONS IN IT
The Search for WondLa–Tony DiTerlizzi
Not only is Tony DiTerlizzi a writing god, he's an art god, too…
FIND A BOOK WITH GOLD LETTERING
FIND A DIARY, TRUE OR FICTIONAL
Ooo…I don't think I have any diaries…gonna have to skip this one…
FIND A BOOK WRITTEN BY AN AUTHOR WITH A COMMON SURNAME 
I Capture the Castle–Dodie Smith
This one will always hold a special place in my heart. My mom got it for me when I had a sick day a few years back 💗
FIND A FAVORITE CHILDHOOD BOOK
Yellowfang's Secret–Erin Hunter
I've since made room for more books on my shelf and taken this one off (the sheer amount of Warriors books…), but this was one of my favorite of the Warriors books.
FIND A BOOK BASED IN THE EARLIEST TIME PERIOD 
Their Eyes Were Watching God–Zora Neale Hurston
…whoops, I think this one was published earlier than Cannery Row…just ignore that…you saw nothing…
FIND A HARDCOVER WITHOUT A JACKET
Gonna have to skip this one, too…I don't take the jackets off of hardcovers!
FIND A TEAL/TURQUOISE COLORED BOOK
FIND A BOOK WITH STARS ON IT
So many stars…
FIND A NON-YA BOOK
Alistair Grim's Odditorium–Gregory Funaro 
I feel like I have a fair balance of MG and YA books on my shelf at this point. There's a lot leftover from middle school, and some books from even before that time.
FIND A BOOK WITH A BEAUTIFUL COVER 
Am I wrong?
I tag anyone who'd like to participate!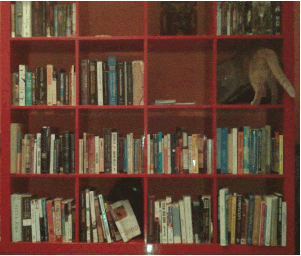 Today's song:
CLASSIC. CLAAAAAAASSIC. And their new album comes out in…almost a week? AAH!
That's it for this book tag! Have a wonderful rest of your day, and take care of yourselves!