Happy Thursday, bibliophiles!
As far as LGBTQ+ YA literature goes, contemporary is the genre where such representation is most common, I think. Contemporary novels were where many people were first introduced to LGBTQ+ themes and issues, and as a genre that sticks to the more realistic side of things, it's a straightforward vehicle for representation.
But with such a plethora of books, there's a wider variety. So, I tried to compile some of my favorites from this genre, and the ones that stood out the most in the genre.
Let's begin, shall we?
PRIDE MONTH RECS, WEEK 3: CONTEMPORARY
LGBTQ+ REPRESENTATION: protagonist is nonbinary (they/them), nonbinary side character
MY RATING: ⭐️⭐️⭐️⭐️
A heartrwenching and poignant novel. Ben's journey to realizing their identity as a nonbinary person is beautiful and simultaneously heartbreaking to watch unfold. (Trigger warnings: LGBTQ+phobia, being thrown out of the house)
2. Under Shifting Stars, Alexandra Latos
LGBTQ+ representation: One of the protagonists is genderfluid, nonbinary love interest
MY RATING: ⭐️⭐️⭐️⭐️
I can't wait for this one to be released so that you all can experience this wondrousness! A beautiful and relatable novel about sisterhood, grief, and exploring one's gender identity and sexuality.
LGBTQ+ REPRESENTATION: Bisexual protagonist, wlw relationship
MY RATING: ⭐️⭐️⭐️⭐️
A wonderful and diverse story about love, fame, and the uniting–and dividing–power of fandom.
4. The Art of Being Normal, Lisa Williamson
LGBTQ+ REPRESENTATION: Trans woman protagonist, trans man side character
MY RATING: ⭐️⭐️⭐️⭐️
Though it wasn't without its flaws, The Art of Being Normal is a poignant exploration of grappling with gender identity and sexuality as an adolescent.
5. Summer of Salt, Katrina Leno
LGBTQ+ REPRESENTATION: Lesbian protagonist, aro/ace side character, wlw relationship
MY RATING: ⭐️⭐️⭐️⭐️
Even though this one's a bit more on the magical realism side (hey, it's shelved as contemporary on Goodreads though…right? Right?), this is, without a doubt, a gorgeously written novel and one of my favorite YA love stories.
6. Echo After Echo, Amy Rose Capetta
LGBTQ+ REPRESENTATION: Protagonist is a lesbian, bisexual love interest, wlw relationship
MY RATING: ⭐️⭐️⭐️⭐️
Another winner from Amy Rose Capetta! Not only is it a wonderful love story, it's also a fascinating mystery set in the world of the theater.
TELL ME WHAT YOU THINK IN THE COMMENTS! WHAT ARE YOUR FAVORITE CONTEMPORARY LGTBQ+ NOVELS?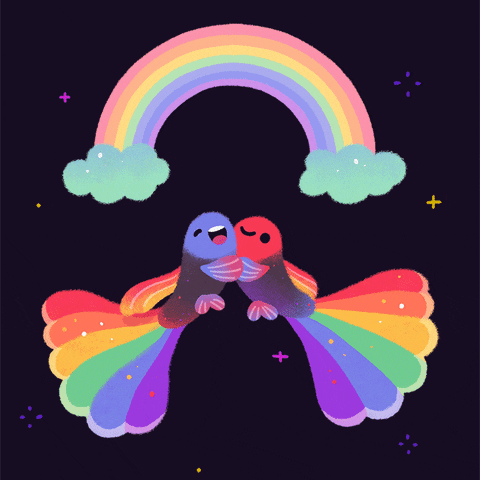 As always, Queer Books for Teens is a wonderful resource if you want to find more LGBTQ+ YA literature.
Today's song:
MORE SOCCER MOMMY MORE SOCCER MOMMY MORE SOCCER MO–
(Also, Phoebe Bridgers released her new album a day early! Expect an album review next week…😄)
That's it for this week's pride month recommendations! Have a wonderful rest of your day, and take care of yourselves!